Cynical Theology
Stuff you didn't learn in Sunday School
I'm concerned that people often check their minds at the door when attending a church service, allowing whatever opinion the pastor preaches to soak in as gospel truth. This is problematic, because any two pastors will likely disagree on any two subjects in the text.
Generally speaking, my perspective on the biblical text is that it forces us into more questions than answers. It does not tell us how to live, but rather it instructs us on how to question life. And it's only in this place of curious yearning that believers are capable of seeking God and doing His will, whatever that may be.
It's the curious yearning that inspires me to write these posts that I refer to as "cynical theology." But in fact, there's nothing cynical in them at all. It only appears cynical to the mind that has closed itself to possibilties, to questions, to the notion of learning more. But this is not cynicism. This is the jovial side of me. I feel the greatest joy and greatest revelation when I discover that what I assumed to be an answer was actually a question waiting to be asked.
PASSOVER AND EASTER
2017-04-13 17:30:07
by: jovial_cynic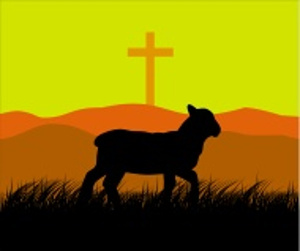 There's often an association between traditional celebrations of Easter and pagan traditions centered around fertility, spring-time, etc. Easter bunnies, eggs - none of it is biblical, but it has become a tradition that Christians participate in.
An often missed association is between Easter and the Jewish Passover celebration. It is the remembrance of the time God struck down the Egyptians who enslaved Israel with ten plagues, the 10th being the death of the firstborn in the land by way of the Destroying Angel. The only way for anyone in Egypt to be saved was to take a young unblemished lamb into the home, kill it to be eaten, but first taking a hyssop branch dipped in the lamb's blood and marking the side and top door posts of the home with that blood. By seeing the blood covering the door posts, the Destroying Angel would *pass over* the house and not enter it, sparing those inside from destruction.
Jesus' death on the cross served as an extension of that story: as the unblemished Lamb of God, his blood was shed to cover our door posts, so that when God's Destroying Angel is sent to destroy wickedness in the world, he will *pass over* those who are covered.
The celebration of Easter, for Christians, is about recognizing that the Lamb was the son of God, voluntarily laying down his life for us. And while this story could remain somber as we reflect on a senseless death, the celebration of Easter is the story of resurrection - the Lamb is raised from the dead, and encourages us to know that the work of salvation is final. We are redeemed. We are saved by the blood of the lamb.
And for that, we Praise God.
comments [0]
CAIN'S SACRIFICE
2015-10-03 18:08:09
by: jovial_cynic
SIN and SIN-OFFERING in the Old Testament are both translated from the same Hebrew word, chatta'ath. Every time in the Old Testament where the word is used, the translators needed to use context to determine whether to translate it as SIN or as SIN-OFFERING. This is odd, because we tend to define SIN as "bad thing" and SIN-OFFERING as "good thing." SIN is the offense, and the SIN-OFFERING is price paid for that offense – they appear to be opposites.
What deepens the complication is when translators disagree on the context.
Take for example the first time the Hebrew word, chatta'ath, is used. In Genesis 4, after Cain fails to offer a correct sacrifice, God speaks:
Then the Lord said to Cain, "Why are you angry? Why is your face downcast? If you do what is right, will you not be accepted? But if you do not do what is right, sin is crouching at your door; it desires to have you, but you must rule over it."
~ Genesis 4:6-7 (NIV)
The New International Version (NIV) Bible translates chatta-ath as SIN in this passage, as do many of the modern translations. When read this way, and pushed forward as doctrine, we have an image of a personal evil presence at our door, which crouches, desiring to have us, but we are instructed to rule over it.
This is a very common way of looking at the relationship between people and evil: evil is always in front of us, but we have to make good choices to stay in God's good graces. We must rule over any evil desires that present themselves.
In contrast, Young's Literal Translation renders it this way:
And Jehovah saith unto Cain, `Why hast thou displeasure? and why hath thy countenance fallen? Is there not, if thou dost well, acceptance? and if thou dost not well, at the opening a sin-offering is crouching, and unto thee its desire, and thou rulest over it.'
~ Youngs Literal Translation 4:6-7 (YLT)
If you can get past the old-English use of "thee" and "thou," you'll notice that the YLT translators use SIN-OFFERING instead of SIN. If you understand SIN-OFFERING to be a lamb (in a nod to the sacrifice of the Lamb of God, Jesus), the image is not of an evil force that is crouching, waiting to pounce, but rather of a personal willing sacrifice, in the form of a lamb, physically waiting at Cain's door – an offering that God would accept alongside Abel's offering.
This carries such a different meaning, and provides much more grace than the SIN translation. When translated as SIN, the responsibility for maintaining God's approval lies on our shoulders. We must make good choices and rule over any temptation and sinful desire. But when translated as SIN-OFFERING, we have a picture of God Himself making a way out; the work of grace is made available at our door. God Himself provides the lamb.
So how do we reconcile the complete differences in meaning? Who is "right" in their translation?
I believe that a proper understanding comes from another way of looking at this Hebrew word. Chatta'ath perhaps should be read as "consequence of the offense." Rendered that way, each instance of the word, whether translated as SIN or as SIN-OFFERING is quite clear: there is a consequence for disobedience. Either we carry that consequence ourselves, or the sacrifice carries it away from us.
When the New Testament says that Jesus "became sin" for us (2 Corinthians 5:21), there's some depth to that statement that is often missed in the English. (It is important to note that the Greek text uses a word for SIN [hamartia] that can only be translated as SIN, or OFFENSE. Some translations render this as trespass. But there is no dual meaning like there is with the Hebrew chatta'ath.)
Perhaps Paul, writing this letter to the Corinthians, understood that the Hebrew scriptures described a sacrifice that was necessary to cover the consequence of Adam's disobedience, and that Jesus Himself was that sacrifice. The sacrifice on the cross described both what Jesus did as well as who he was: the covering over Adam in Genesis 3, and the appropriate offering to God in Genesis 4, both provided by God Himself and acceptable to Him.
comments [0]
OF LIKE MIND
2010-04-25 21:21:51
by: jovial_cynic
image:
Fractal Blues
(
cc
) Fábio Pinheiro
I've recently started playing my electric violin for worship services at my church. We've been attending
Redeemer's Church
in Reedley, California, and it's nice to be involved with another church that is interested in taking care of the poor, and whose leadership believes in challenging theological assumptions. It's comforting to worship with my music and spend time with people who share some of my theological perspectives.
Between the two services this morning, I chatted with some of the other members of the music team about last week's guest speaker, Bart Campolo (son of Tony Campolo, whose writings were the catalyst for the creation of this blog). One of the things that came out of that chat was the idea of a gospel message that's relevant to today's culture, and at the same time isn't
trapped
in today's culture. This idea was best illustrated when the band leader said that, when he was growing up, his Christian parents taught him that the Rev. Martin Luther King Jr. was
evil
, on account of being black. The white-only culture in which his parents were raised dominated their worldview, to the point of poisoning the gospel message. The Christianity of his parents' time was so entrenched in the culture that it couldn't see past the expectations of white society.
It's really from this notion of cultural poison that post-modern Christianity emerged. Believers who gravitate towards an anti-establishment worldview look for a theology that's free from the constraints of relative cultural norms, while at the same time cling to the
moral
objectivity that's found in the scriptures. The post-modern Christian generally rejects limitations on expression of faith (electric guitars, tamborines, and interpretive dance are all acceptable), and "sinful" lifestyle choices are seen as a consequence
of
sin, and not simply isolated cases of sin themselves. For example, the post-modern interpretation of Romans 1:18-32 sees a people arrive at a normative view of homosexuality as a result of the rejection of God over a period of time; God's response to a culture who turns away from Him is to "give them over to shameful lusts." (vs. 26) While traditional Christianity tends to focus on the the individual's homosexuality, post-modern Christianty would suggest that rise of homosexuality is a symptom of a widespread cultural problem, perhaps starting with a previous generation of believers who failed to live by faith.
I tend to agree with the post-modern view on many issues. I will say, however, that there is a clear difference between an healthy post-modern Christianity and an unhealthy one. As one of the singers of the band said during our chat, we are just as susceptible to being chained by the norms of our post-modern culture as the people in the previous generation were to their own; the gospel of Christ has the power to be relevant to every generation, and it can also be rendered ineffective by every generation by our manmade traditions, theologies, and idols. It is critical that post-modern Christians see themselves as Christians first; that is our primary identity. If cultural expectations run against our Christian faith, our first order of business is to dump the culture; we don't redefine our faith to fit social norms.
A healthy post-modern Christianity sees a Jesus who eats and drinks with tax collectors and prostitutes, and sinners of all colors, Jews and gentiles alike. The Redeemer's Church community speaks to this, and I look forward to continuing to grow in this community.
comments [

2

]
GOOD NEIGHBORS
2009-06-11 11:28:48
by: jovial_cynic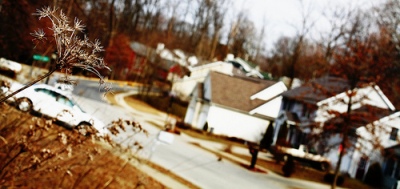 image:
Neighborhood
(
cc
) R. Cao
Carman, from
Revolution
, wrote this brilliant and cuts-to-the-heart post regarding the shutdown of a San Diego Bible Study group, which picked up nationwide attention.
The incident in San Diego where the authorities demanded that a home Bible study shut down because it was in violation of local codes has attracted nationwide attention. The last I heard was that the authorities backed down because of the firestorm that was created by their prohibition of the Bible study.
This Bible study was brought to the authorities' attention when neighbors complained about all the cars that were parked in the neighborhood by those attending the Bible study. It was far too congested as far as the neighbors were concerned.
I wonder if those who are hosting the Bible study have any healthy relationships with their neighbors. Do they host anything for their neighbors, like backyard barbecues, Super Bowl parties, birthday parties, etc.?
What would happen if all the people who were driving into this one neighborhood for a Bible study would start gathering with people in their own neighborhoods, developing friendships whereby some of their own neighbors might become interested in checking out the Scriptures together with them? One thing for sure, there would be no congestion or parking problems because everyone lives within walking distance of each other's homes.
Perhaps this San Diego incident is indicative of the mentality that is so predominate in western Christianity. We will travel miles to gather with other believers ensconcing ourselves deeper and deeper in our Christian bubble while ignoring our neighbors that live right in our own block. So how are we advancing God's kingdom on the geographical turf where he has placed us?
Brilliant.
It occurs to me that even when Jesus fed the 5,000, the disciples (good stewards that they were) did the job of cleaning up all the leftover food, which helped to ensure that a public outcry over molding bread and rotting fish never happened. Being a good neighbor seems to be part of Jesus' MO.
comments [

4

]
ABSENT
2009-03-25 21:30:47
by: jovial_cynic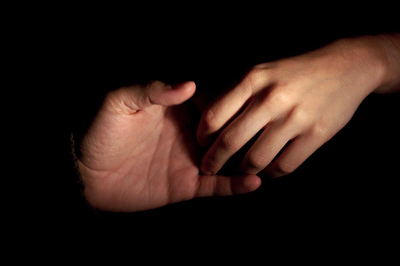 image:
I wanna hold your hand
(
cc
) batega
An old friend of mine recently posted a link to a youtube video on his facebook profile which posits the absurdity of a belief in an intangible God who appears to be perfectly absent.
Here's a
link to the video
. It's well done, actually, but I enjoy sarcasm.
The video includes all sorts of requirements for a deity to demonstrate its own existence -- stopping bad things from happening, having bad things happen to believers in a disproportionate manner, etc. Basically, the video provides a test of validity, and names the conditions of that test. This is fine, but given the nature of the relationship between God and those who walk with Him, I think that such a test is meaningless, much like the test one might use to "prove" one's love for another.
I love my wife. I can't prove it to her, but I continually try to demonstrate that I do. But in the same way that somebody can explain away God's plague of frogs on the ancient Egyptians as a freak natural occurrence, my wife can view my gift of assorted flowers as a self-serving act, meant only to be used as leverage for some favor; it wouldn't prove that I loved her. My words, my actions, my reactions... they could all be explained away as the result of physical and mechanical processes: chemistry, biology, and psychology. Likewise, my wife is quite capable of compiling a list of requirements for me to demonstrate my love for her (doing the dishes every day, folding all the laundry, changing every poop-filled diaper, etc., etc.)... but I could easily do those things without any sense of affection towards her. Her test of proof has no meaning; one cannot actually prove that they love someone else.
The proof requested of God to show his presence is identical to a request for proof that a spouse or friend demonstrate their love; God
is
love, after all.
So what does this test actually do?
I wonder if such requests for proof (impossible that they are to fulfill) are not actually a request for any such thing. Because the requester should be fully aware that such proof cannot be obtained, perhaps the request is merely seeking justification to disbelieve and to disregard. For example, the man who demands that his wife prove her affection for him, and yet remains dissatisfied at her every genuine attempt, does not actually seek her affection. He simply means to place her in front of an impossible challenge. The woman, in this example, mirrors the heart of God who pours out His love to a rebellious people who deny His very presence and His desire for them.
In the case of a healthy and loving relationship, this thing we call love is intangible. It cannot be seen, it cannot be touched. Yet we walk hand-in-hand with our spouses and loved-ones, connected by more than just the flesh that covers our bones - there is a sense of
hallowed ground
between the people involved. And walking with God is the same -- we are connected to our creator by this
love
, and it is in this love that we exist and find purpose. This love is the prime mover in the relationship, and we reciprocate that love with our actions. And yet... the actions themselves are not the proof of that love. They are simply manifestations of it.
Those who wish to explain love away as the simple turning of cold gears within the machine of the mind perhaps have never felt love's warmth. And for that same reason, they perhaps have never felt the presence of God. I don't doubt my wife's love for me, and I don't look for proof of it. Likewise, my God is not so absent.
comments [

8

]
2009-03-24:
CHILDLIKE FAITH, CHILDLIKE DOUBT
2009-01-15:
THE WOMAN AT THE WELL
2008-12-02:
WISDOM FROM MOM
2008-10-14:
RIGHTEOUSNESS
2008-05-30:
THE LAST SHALL BE FIRST
2008-03-23:
THE CREATION DICHOTOMY
2008-01-31:
REVELATION OF CREATION
2008-01-17:
FORMLESS AND VOID
2007-12-31:
THE FIRST WORD
2007-12-20:
BERASHIT, RE'SHIYTH
2007-12-18:
IN THE BEGINNING
2007-12-11:
THE ORIGIN OF THE SCRIPTURES
2007-12-07:
THE NEWPROTEST TRANSLATION
2007-10-29:
GOLDEN
2007-10-16:
PREACHER FOR A DAY
2007-09-17:
HALLOWED GROUND
2007-08-08:
SONG OF CONFUSION
2007-08-06:
A PERSPECTIVE ON SIN
2007-07-24:
CHURCHES OF BABEL
2007-06-28:
NATIONALISM AND CHRISTIANITY
2007-06-01:
GOOD NEIGHBOR
2007-01-24:
HOW STUFF WORKS
2006-12-24:
KOMODO CHRISTMAS
2006-11-02:
THE CHURCH AND THE POOR
2006-09-14:
LIQUID CHURCH
2006-08-30:
CORPORATE ABUNDANCE
2006-08-29:
ABUNDANT LIFE?
2006-06-15:
A CHRISTIAN PERSPECTIVE
2006-06-14:
FROM ONE AGE TO THE NEXT
2006-03-15:
A DIFFERENT KIND OF JESUS
2006-03-08:
MORE FREE-WILL NONSENSE
2006-01-17:
THEOLOGICAL CONFUSION
2005-10-08:
SILENCE OF THE WOMAN
2005-09-01:
THE WICKED NATURE OF MAN
2005-06-09:
LOSING SALVATION #2 (ADAM AND EVE)
2005-06-08:
LOSING SALVATION #1 (JONAH'S STORY)
2005-04-06:
HOLINESS AND HUMILITY
2005-04-02:
SOMETIMES GOD KILLS
2005-01-18:
RAPTURE
2005-01-18:
LIGHT
2005-01-03:
THE TRINITY
2004-11-16:
HOMOSEXUALITY, POLITICS, AND THE CHURCH
2004-11-16:
POLITICS AND THE CHRISTIAN
2004-11-16:
MARIJUANA AND THE BIBLE
2004-10-19:
PHARAOH AND ABIMELECH (GEN. 12 AND GEN. 20)
2004-10-18:
ENOCH