THE FIRST WORD
December 31, 2007
by: jovial_cynic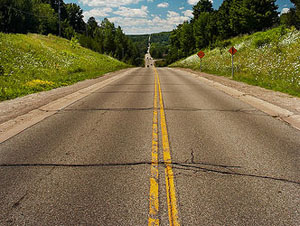 image:
the long road
(
cc
) wvs
I'm into my fifth post in the
theology
section, and I still haven't gotten past the first word in Genesis 1:1. This is going to be a long road.
After discovering
my error
regarding berashit and re'shiyth, I did some more research to find out more about what the text really stated.
Nearly every english translation renders Genesis 1:1 like this:
In the beginning, God created the heavens and the earth.
The phrase, "in the beginning" is a single Hebrew word,
berashit
. While it can be translated as "in the beginning," the Hebrew concept of "in the" is better understood as "
oneness
." It's not just a statement of place or time (eg.
in the
house), but additionally a statement of unity. This is very interesting when you consider that Jesus refers to himself as "the Alpha and Omega, the beginning and the end" in Revelation 21:6. Also, regarding Jesus, John 1:3 states that "through him all things were made," which places Jesus at the helm of creation. This certainly leaves room at the very start of the text for Trinitarian doctrine.
If Jesus is "the beginning," God's act of creating the heavens and the earth occurs
in oneness with
the beginning, that being Christ. Compare this with John 1:1, which states "In the beginning, there was the Word, and the Word was with God, and the Word was God." The text then defines the Word as Jesus, which creates an interesting parallel.
While none of this touches on the debate about the age of the universe, or of the creation/evolution debate, it certainly does show that there are some themes that run the course of the entire text, both Old and New Testaments. It'll be interesting to see how many of these themes we unearth as we go through it all.