Wine Making
My efforts to make a delicious wine.
Why on earth doesn't EVERYBODY make their own wine and beer? It isn't rocket science.
Truth be told, I haven't spent nearly as much time and research with wine as I would like. I did, however, inspire my brother-in-law to start up, and he's made quite a few successful batches. Way to go, bro.
NEXT ATTEMPT: WHITE GRAPE CHERRY
2008-06-29 06:17:56
by: jovial_cynic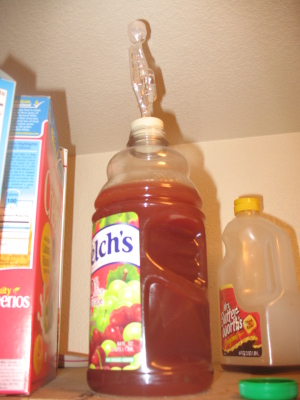 My first batch was a bust, so I decided to try again, only this time using a jug of white grape cherry juice, plus about 3/4-cup of sugar. The airlock is sitting on a properly sized bung for the opening of this juice container; hopefully it works out.
comments [

4

]
VINEGAR
2008-06-26 18:12:33
by: jovial_cynic
Well, my
first batch
of the season didn't quite pan out. I used an air-lock bung that was too large for the opening of the bottle, and instead of being patient and hunting around for a smaller bung, I whittled away at the large one until it looked like it was going to fit.
Apparently, it didn't seal well. And when oxygen is able to get into your wine batch, you don't end up with wine. You end up with vinegar.
Boo.
comments [

5

]
PINEAPPLE ORANGE BATCH
2008-06-16 07:13:59
by: jovial_cynic
My brother-in-law, inspired by my previous goofy attempts at making wine out of mint and other things around the house, decided to make his own batch. He's got plenty of mint growing crazy in his yard, so after collecting a bunch, he got himself a healthy batch of country wine.
Not to be outdone, I decided to get my own batch started up.
I had an old can of frozen juice that's been sitting in the freezer for too long. Pineapple orange. Yum.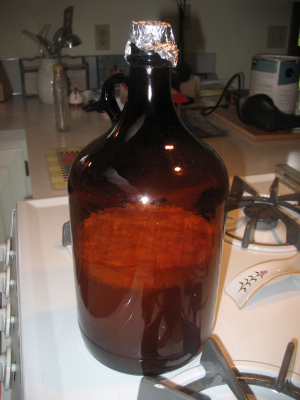 I found this great jug at a garage sale for $3. Looks like a booze-making jug.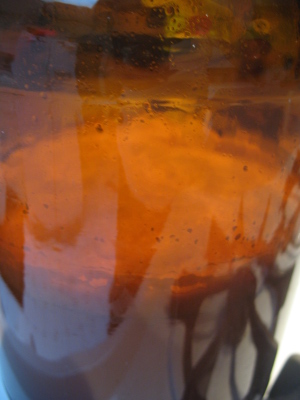 After mixing the can with a pitcher of water, and throwing in about a cup of sugar and a packet of yeast, I let the jug sit lightly covered in my pantry. This morning, there was a healthy level of foam on top -- looks like the yeast is enjoying the sugar bath. In about two weeks, this should turn into something delicious.
comments [

9

]
NEXT ATTEMPT
2006-07-09 00:00:00
by: jovial_cynic
Well, with all the cherries I have sitting on my cherry tree, I figured that I might as well see if I can make some cherry country wine out of them. Last year's batch of mint wine turned out alright... not really great, but it was proof enough that I could make alcohol from mint leaves. Cherries should be even easier, and there's a lot more sugar in cherries than there is in mint leaves, I'm sure it'll come out a bit better.
Just to do things a little differently, I took my pitted cherries and threw them into my Magic Bullet mixer with some sugar, which turned them into a pure liquid... and then I boiled it all up and poured them into a wine bottle. I figure that mixing it all up will make it easier for the yeast to get at the sugars in the cherries, so it should accelerate the alcohol-making process.
Hopefully something interesting happens. I'll keep you posted.
comments [0]
REAL WINE... FROM THE STORE
2005-12-23 00:00:00
by: jovial_cynic
I think I might have changed my mind. About wine, that is - I've had some "real" wines recently (ie., not just the $3 bottles I've been picking up at Safeway), and I think I've learned to appreciate it. So... that's new. I might try another batch of wine in the near future... but it won't be based on mint. It'll be based on some actual fruit, so it'll break down faster.
comments [0]
2005-09-23:
BLEAH
2005-07-26:
I THINK IT'S WINE
2005-06-28:
A HINT OF ALCOHOL
2005-06-21:
OOPS
2005-06-20:
NEW BOTTLES
2005-06-17:
BUBBLES
2005-06-16:
MAKING "REAL" WINE
2005-06-15:
NO UPDATES
2005-06-14:
PRISON WINE?
2005-06-13:
FIRST STEPS