Stuff about Me
It's like myspace. Only not quite so myspace.
Curious about the way my brain works? Yeah. Me, too.
This section of my blog is a collection of things I'm into, and things about which I wonder. It's kind of a catch-all category.
NEW ADVENTURE
2021-07-12 10:08:39
by: jovial_cynic
Today is my last Monday at the current job with Washington State.
It's weird to have changed jobs during Covid. Twice. The first job was as a Sales Leader with Allstate. Early in the pandemic, they transitioned to work-from-home, like many jobs, and my office became the space around my laptop. It worked out quite well - my family and I lived on a 51' boat, which meant that my office was really anywhere along the Puget Sound waters - sometimes in Poulsbo, sometimes in Tacoma. We didn't make it to Canada or Alaska like we planned (due to travel restrictions) but I'll still argue my office was nicer than anyone else's.
When I left Allstate (or Allstate left me? It's complicated) and picked up a job with the State of Washington Office of the Insurance Commissioner, my office view didn't change. We still lived on the boat at the time, so my adventure into state government employment didn't feel like much of a change. My "office coworkers" were still my wife and my kids, and aside from being on the phone a lot more (my job involved talking to consumers who complained about their insurance companies), my routines were pretty similar. Another key difference is that I was a supervisor. Having subordinates has been a little strange in a remote environment. True story: I've never met 5 out of 6 of my subordinates, except by Zoom. Aside from little "how was your weekend" chats as the late-arrivals would log into virtual meetings, I can't say that I know much of anything about my team. And I think that's why transition out of this current job feels so odd. I'm saying goodbye to people I've never met, and due to lack of time and face-to-face interaction, there's not really any emotions about it. I think the only emotion that I've had is this growing feeling that a state government job isn't for me.
If you know me at all, you know that I like to tinker. I like to create things. I like to come up with creative solutions to problems, and really push the borders on what is possible. I crave adventure, exploration, discovery. So as you might imagine, being chained to policy and procedures and paperwork and the correct crossing of "T"s and dotting of "I"s has been, in a word, torturous. It has been soul crushing for me. Not to be thwarted, I *did* impose some change on the way the office was run. I set new expectations on my team that encouraged my subordinates to ask more questions and to look for solutions in novel ways. But some borders are functionally immovable; policy and procedure documents could take months... YEARS, even, to change in meaningful ways. I just don't have the patience for that.
At some point, I polished my resume and updated my LinkedIn profile. It was, in fact, my LinkedIn profile that caught the attention of a head hunter who was eager for somebody with my background. They were looking to create a new Sales Leader position in the Northwest, and having already been a Sales Leader with 17 years of insurance experience, I was exactly what they were looking for.
Initially, I was not interested. I mean, it's a bit of a contradiction to suggest that I'm creative, exploratory, and always looking for new adventures when I've spent nearly half my life in a single career field. All in insurance! I told the recruiter that I was hesitant, and that quite frankly, if I was going to accept any interview (seven separate interviews with the company, as it turned out), I wanted it to be very clear that it was I who would be interviewing them, and not the other way around. I needed to make sure that there was a philosophical alignment between myself and the company. I previously chose not to reapply with Allstate due to philosophical differences; I wasn't interested in tying myself to another company with whom I disagreed.
In the end, I decided that the new company was acceptable to me. The interviews revealed to me that the company is very interested in new ideas, changes, new ways of succeeding, and that in my role, I would have a seat at the table for these discussions. Additionally, the role would give me a tremendous amount of freedom. Freedom to solve problems, and to look for efficiencies. The structure is basically, "Here's your territory, here are your resources, and here is the goal. Go get it!" I love that. I thrive in that. And it's for that reason I accepted the job and am eager for next Monday.
I'm very excited about this. No mixed emotions at all. Just a sense of wonder as a new adventure opens up in front of me. I can't wait.
comments [0]
GOOGLE CAR
2011-12-01 17:11:46
by: jovial_cynic
A lot of people have seen the Google Car driving around in their towns, taking pictures of everything. And a lot of you have taken pictures of the Google Car.
Here's my picture: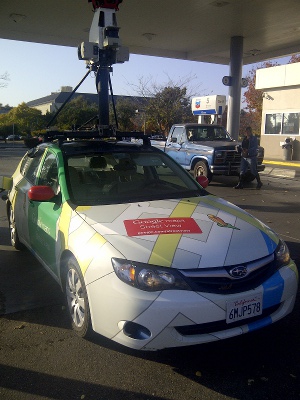 I managed to catch the car at a local gas station, and like most of you, I simply couldn't help myself.
But what's even MORE interesting is that I managed to actually
talk
to the Google Car driver! That's right. So instead of simply taking a picture of the car, this driver agreed to let me snap a shot of the both of us in front of the car.
Turns out that Google gets their drivers from a hiring agency. This driver has been cruising around the area since June of this year.
comments [0]
GOING THE DISTANCE
2011-05-10 21:48:55
by: jovial_cynic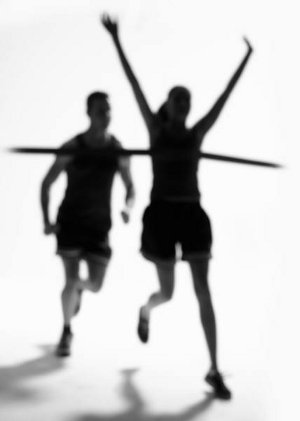 I've always hated running.
I started this year off by committing to run a mile every day, a plan that lasted about 3 weeks. It wasn't because of laziness or inability to commit. It's because I hated it. Every second of it. From the moment I tied my shoelaces to the final gasping breaths as I dragged myself back into my house, the entire experience was horrible. For each morning I would run, I would feel like I had less energy that day, and the thought of doing it again the next morning was de-motivating.
My asthmatic wife, on the other hand, took up the same challenge, and after several weeks, had increased her distance from a single mile to upwards of 3 and 4 miles. And stranger yet: she LOVED it. Running made her feel better, which further encouraged her to run more. Today, she can run 5 miles at a 9-minute-per-mile average.
Weirdness.
Tonight, I made an important discovery. I decided run again (after a little prodding by my wife), and instead of going at the pace I typically attempted in the past, I decided to back down my speed to see how that would impact my distance. This made a world of difference.
Typically, I would run until I couldn't do it anymore - I'd get to the point where my lungs were burning, and my heartbeat could be felt in my ears and eyes, and my body was on the verge of shutting down. You know... that point where if you take another step, you're just going to puke. By slowing down my pace, I was actually able to mentally monitor my heart-rate, and discovered for the first time the correlation between heart-rate and my body's freak-out threshold. By keeping my heart-rate down, I was able to keep running.
I ran for 2.4 miles - the longest I've ever run. And in fact, I probably could have kept going, but because I'm just now getting over a cold, I figured I shouldn't overdo it. I'm pretty sure, however, that hitting mile #3 in the next few days isn't out of the question. It's all about keeping a reasonable pace. And over time, I should be able to increase my pace as my body builds up more stamina for running.
comments [0]
DANGER
2011-02-26 15:15:26
by: jovial_cynic
At the local WinCo grocery store, they've got these neat straight-from-the-hive containers of clover honey, orange-blossom honey, and blackberry honey. Fresh honey is awesome.
This is also awesome:
I'm sure it's a gimmick, on account of the huge liability (folks w/ bee allergies and all that)... but it sure does conjure up all kinds of amusement.
comments [0]
COOKIES: GOOD FOR THE EYES
2011-01-29 14:35:27
by: jovial_cynic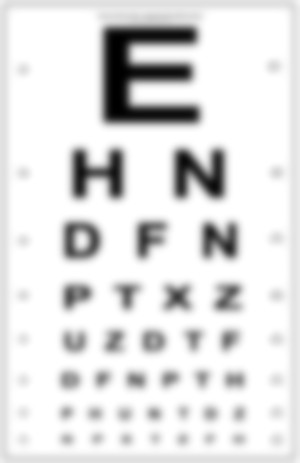 My middle child decided recently that it was cool to wear glasses. She recently learned that the only way to get glasses was to have trouble seeing, so she decided that
everything
looked blurry. This, of course, prompted one of her teachers to advise us that we needed to have her taken to an optometrist.
Not wanting to spend money that I didn't need to spend on an unnecessary eye exam, I found a simple online eye exam to see if there was anything abnormal about her vision.
On the first letter, my daughter told me it was blurry. That's right. That giant E that's always at the beginning of eye-charts. The next letters were just as blurry to her.
:: sigh ::
"Honey... if you get all the answers right, you'll get a COOKIE at the end."
And miraculously, her vision was suddenly 20/20. 100% accuracy on the remaining letters.
comments [

1

]
2011-01-04:
CURIOUSLY
2010-12-24:
LUCKY
2010-06-05:
IT'S HEATING UP!
2010-05-15:
COUNTDOWN
2009-12-17:
THE MIST
2009-11-17:
100-WORD FICTION
2009-10-23:
AFTER SEVEN YEARS
2009-07-13:
FISHING BOAT
2009-05-11:
PLAYSET
2009-02-25:
LENT 2009
2009-01-28:
CHATEAU D'CYNIC
2009-01-08:
SOCIAL TRACKING DATA
2008-12-29:
TRACK EVERYTHING
2008-12-21:
SNOW FORT
2008-12-20:
UNIQUE LITTLE SNOWFLAKES
2008-12-20:
LET IT SNOW...
2008-12-07:
WHAT'S FOR DINNER?
2008-11-27:
A DAY OF THANKS
2008-11-12:
OGRE-LIKE MIGHT
2008-10-21:
GAGA FOR GOGGLES
2008-10-09:
ETSY
2008-09-15:
NEW AVATAR
2008-09-05:
FUTURE PLANS
2008-09-03:
ON LIFE INSURANCE
2008-07-28:
LAKEFAIR FIREWORKS
2008-07-24:
THE SHRIMP
2008-07-24:
KINETIC VISION MEDIA
2008-07-16:
SOMETHING LARGER
2008-07-09:
PLAYHOUSE COMPLETE
2008-07-07:
THE PATIENT FISHERMAN
2008-07-03:
MY TIDE CHART
2008-06-26:
SIMPLY DANCE
2008-06-17:
BEAUTIFUL PLANET
2008-06-15:
OH HAPPY DAY
2008-06-11:
MAYBE KNOT
2008-05-23:
PLASTIC BAGS: BIODEGRADABLE!
2008-05-06:
AIR JELLY
2008-05-05:
MYANMAR PERSPECTIVE
2008-04-22:
BUFFALO
2008-04-19:
AFRICA - SOUTH AMERICA CONNECTION
2008-04-02:
BEAUTY
2008-03-28:
THE RESISTANCE (IN OHMS)
2008-03-25:
11,000
2008-03-12:
GEEK WIFE
2008-02-29:
GOODBYE TO THE CLUBSIDE?
2008-02-11:
NAMDAEMUN BURNING
2008-01-28:
HAPPY LEGO DAY
2008-01-15:
DUAL BOOT
2008-01-01:
FRETS ON FIRE
2007-12-28:
NVIDIA PROBLEMS, ADOBE PROBLEMS
2007-12-06:
SOME TWEAKING NECESSARY
2007-12-03:
AND THEN CAME THE FLOODS
2007-12-02:
WIND AND RAIN
2007-11-15:
AWKWARD/UNCOMFORTABLE SETTINGS
2007-11-13:
KITTY
2007-11-07:
THE ARTIST
2007-10-28:
GUTSY GIBBON
2007-10-22:
CAFFEINE OVERDOSE
2007-09-29:
SO A HAWK AND A STARLING FLY INTO A BAR
2007-09-03:
ANY CRASH YOU CAN WALK AWAY FROM...
2007-08-28:
HELLO, UBUNTU (PART 4)
2007-08-28:
HELLO, UBUNTU (PART 3)
2007-08-28:
HELLO, UBUNTU (PART 2)
2007-08-28:
HELLO, UBUNTU (PART 1)
2007-08-14:
TENTING IT
2007-08-03:
AUGUST TO DO LIST
2007-07-09:
HOLDING A BABY HOSTAGE
2007-07-05:
I'M SO GOING TO DO THIS
2007-06-26:
NEVER-ENDING PROJECTS
2007-06-11:
THIS EMPEROR'S NEW CLOTHES
2007-06-07:
V-DAY
2007-06-06:
NOW WE'RE COOKING WITH PLASMA
2007-05-30:
300 (THE MOVIE) FIGURINES
2007-05-03:
LIFE AND DEATH
2007-05-01:
SANDRAIL FOR A MOTORHOME
2007-04-29:
NEW TABLESAW
2007-04-27:
RANDALL MUNROE MISSING?
2007-04-20:
STARTING OVER
2007-04-13:
MAKING STUFF
2007-04-07:
WELCOME HOME, CHARLIE
2007-02-11:
OSTINATO RIGORE
2007-02-09:
GIFT CARDS!
2007-01-29:
GLASS ELDER
2007-01-27:
FASHIONABLY LATE
2007-01-26:
800 POUND MAGNET FOR YOUR EYE
2007-01-22:
DEAL... OR NO DEAL
2007-01-15:
KING OF MY OWN TRASH
2007-01-07:
AMIE STREET MUSIC
2007-01-07:
RIP, MR. INSTANT RAMEN
2007-01-03:
$2000 SUIT
2007-01-01:
2007 - A NEW ADVENTURE
2006-12-16:
AND... POWER!!!
2006-12-16:
NO POWER, DAY TWO
2006-12-15:
POWER FAILURE
2006-11-29:
CAN'T SLEEP
2006-11-25:
PERPETUAL SATURDAY
2006-11-23:
ILLNESS KNOWS NO BORDERS
2006-11-21:
KOREA FUN FACT: CORRUPTION!
2006-11-21:
KOREAN MARKET
2006-11-20:
CROSS COUNTRY TRAVELS
2006-11-17:
DRIVING BY THE DRAGON
2006-11-16:
IN KOREA: DAY 1
2006-11-03:
ICKLE
2006-10-30:
COMMUNICATIONS 2.0
2006-10-13:
TINY DINOSAUR THEORY
2006-10-05:
BONK
2006-09-30:
EATING HABITS OF A TWO YEAR OLD
2006-09-28:
BREAKFAST AND BATTERIES
2006-09-26:
BLOGGING FROM ILLINOIS
2006-09-25:
LONG-TAIL OF INTERNAL COMMUNICATIONS
2006-09-24:
AT 14, I WAS INSANE
2006-09-22:
MY LIFE AS 1'S AND 0'S
2006-09-19:
YAR!!!
2006-09-18:
NINJA ATTACK!
2006-09-18:
PARENTS OF TODDLERS
2006-09-18:
PIMPING DARREN
2006-09-15:
SO HELPFUL
2006-09-13:
SPELLCHECKER
2006-09-05:
YOUTUBE
2006-09-01:
FASTER THAN EVER
2006-08-31:
WHAT WOULD YOU TRADE FOR A MOTORHOME?
2006-08-31:
YOU REALLY SHOULD STOP SMOKING
2006-08-28:
DISTORTION
2006-08-05:
HORROR FROM THE PIT
2006-07-18:
OH, THE BLOOD...
2006-07-15:
BUSY BUSY
2006-06-29:
JOURNALISM
2006-06-26:
HEAT WAVE
2006-06-25:
IN THE MOVIES
2006-06-19:
FISHING FOR SOMETHING
2006-06-15:
ON BEING A VEGETARIAN
2006-06-14:
CATASTROPHE!
2006-06-14:
THE BUSINESS OF BUSINESS
2006-06-11:
THE LEGO EXPERIENCE
2006-06-09:
WORLD CUP
2006-06-05:
SO A MAN WALKS INTO A LION CAGE...
2006-05-31:
GOOGLE ADS
2006-05-30:
WHAT TO DO WITH THESE GROCERY BAGS...
2006-05-28:
GREAT JOKES
2006-05-26:
PERSONALITY DNA
2006-05-24:
TOWEL DAY
2006-05-24:
KIRBY TIME
2006-05-23:
... OR RIVERS OF URINE
2006-05-20:
RENDEZVOUS WITH THE REPAIR SHOP
2006-05-12:
BABY SUIT
2006-05-10:
BOXING
2006-04-15:
ONE FISH, TWO FISH...
2006-04-12:
A FEW SONGS
2006-04-11:
THE BAND IS GETTING BACK TOGETHER!
2006-04-07:
IT'S SPICY!
2006-03-31:
MOTORHOME REMODEL
2006-03-29:
MAKING SOME VEHICLE CHANGES
2006-03-24:
THREE-YEAR-OLD STREET FIGHTER
2006-03-17:
FOOD STICKER LABEL CODE READER
2006-03-16:
WORST SONG LYRICS EVER
2006-02-24:
CUTTING BACK
2006-02-07:
CLOSED SPACES, SPIDERS, AND DARKNESS
2006-01-07:
SET!
2006-01-03:
SOCIALIST HAIRCUT
2005-12-30:
NUTS
2005-12-13:
SICK - BLEAH
2005-12-04:
STRESS
2005-11-14:
WEATHER ALERT!
2005-11-02:
BUILD A BETTER BUSH
2005-10-18:
NEW BIBLE STUDY COUNTDOWN
2005-10-05:
DR. LOVE STRIKES AGAIN
2005-10-01:
MORE CATASTROPHE DUTY
2005-09-27:
QUANTUM SLEEPER
2005-09-15:
CATASTROPHE
2005-09-08:
BEATING UP 12-YEAR OLDS
2005-08-18:
FETUS-MART
2005-07-12:
NEW BABY = NO SLEEP
2005-07-08:
ALL WE, LIKE SHEEP...
2005-07-06:
KINGDOM OF LOATHING
2005-07-01:
NEW ARRIVAL
2005-06-07:
THE MOST AWESOME AND TERRIBLE DREAM
2005-06-07:
MOST DIGITAL MAN
2005-06-02:
LION OF THE SERENGETI
2005-06-02:
HALF BAKED PHILISTINE MAN
2005-05-26:
VEGETABLES: THE OTHER GREEN MEAT
2005-05-21:
MY STAR'S TURNED TURQUOISE
2005-05-16:
ONE PROBLEM AT A TIME
2005-05-10:
BUDDYBUZZ
2005-05-03:
POTTED MEAT
2005-05-02:
URHINES KENDALL ICY EIGHT SPECIAL K
2005-04-19:
DEAD FISH
2005-03-07:
NEW DIGITAL CAMERA
2005-02-03:
MOTORHOME MANIA
2005-01-02:
BEING SICK SUCKS
2004-11-16:
WE'RE HAVING BABY #2!
2004-11-02:
3D GAMING
2004-10-13:
SWAP MEET WITH THE IN-LAWS