ABSENT
March 25, 2009
by: jovial_cynic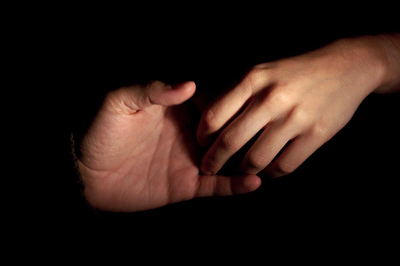 image:
I wanna hold your hand
(
cc
) batega
An old friend of mine recently posted a link to a youtube video on his facebook profile which posits the absurdity of a belief in an intangible God who appears to be perfectly absent.
Here's a
link to the video
. It's well done, actually, but I enjoy sarcasm.
The video includes all sorts of requirements for a deity to demonstrate its own existence -- stopping bad things from happening, having bad things happen to believers in a disproportionate manner, etc. Basically, the video provides a test of validity, and names the conditions of that test. This is fine, but given the nature of the relationship between God and those who walk with Him, I think that such a test is meaningless, much like the test one might use to "prove" one's love for another.
I love my wife. I can't prove it to her, but I continually try to demonstrate that I do. But in the same way that somebody can explain away God's plague of frogs on the ancient Egyptians as a freak natural occurrence, my wife can view my gift of assorted flowers as a self-serving act, meant only to be used as leverage for some favor; it wouldn't prove that I loved her. My words, my actions, my reactions... they could all be explained away as the result of physical and mechanical processes: chemistry, biology, and psychology. Likewise, my wife is quite capable of compiling a list of requirements for me to demonstrate my love for her (doing the dishes every day, folding all the laundry, changing every poop-filled diaper, etc., etc.)... but I could easily do those things without any sense of affection towards her. Her test of proof has no meaning; one cannot actually prove that they love someone else.
The proof requested of God to show his presence is identical to a request for proof that a spouse or friend demonstrate their love; God
is
love, after all.
So what does this test actually do?
I wonder if such requests for proof (impossible that they are to fulfill) are not actually a request for any such thing. Because the requester should be fully aware that such proof cannot be obtained, perhaps the request is merely seeking justification to disbelieve and to disregard. For example, the man who demands that his wife prove her affection for him, and yet remains dissatisfied at her every genuine attempt, does not actually seek her affection. He simply means to place her in front of an impossible challenge. The woman, in this example, mirrors the heart of God who pours out His love to a rebellious people who deny His very presence and His desire for them.
In the case of a healthy and loving relationship, this thing we call love is intangible. It cannot be seen, it cannot be touched. Yet we walk hand-in-hand with our spouses and loved-ones, connected by more than just the flesh that covers our bones - there is a sense of
hallowed ground
between the people involved. And walking with God is the same -- we are connected to our creator by this
love
, and it is in this love that we exist and find purpose. This love is the prime mover in the relationship, and we reciprocate that love with our actions. And yet... the actions themselves are not the proof of that love. They are simply manifestations of it.
Those who wish to explain love away as the simple turning of cold gears within the machine of the mind perhaps have never felt love's warmth. And for that same reason, they perhaps have never felt the presence of God. I don't doubt my wife's love for me, and I don't look for proof of it. Likewise, my God is not so absent.