Corporations
When big companies forget about little people, bad things happen.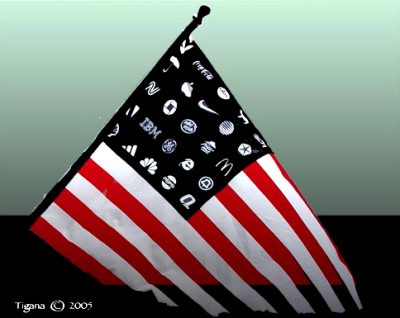 image:
Stop Corporate Greed!
(
cc
) Nurpu
Large businesses are vital for a growing economy. The ability for a large business to secure financing is what generates more products and services and create new jobs.
However, it's very easy for a large business, as an institution, to be like an organism interested only in feeding and reproducing. Consume, consume, grow, grow. And it's when these businesses lose their human element and become great beasts that the common folk become trampled underfoot.
These posts are meant to raise awareness by documenting the rise of these beasts.
ROTTEN APPLE
2008-01-29 17:44:55
by: jovial_cynic
image:
Rotten
(
cc
) -Muppet
I appreciate that businesses can sell what they want to whomever they wish, but it doesn't mean that the company isn't a jerk.
Apple is a jerk
.
A number of iPod owners have discovered that their recently purchased iPods won't work with Apple's new iTunes video rentals, even though the iPods have video playback capabilities.
As of Tuesday, the issue had been raised multiple times in Apple's support forums. So far the company's only response has been to confirm that movie rentals work only with the iPhone, iPod touch, iPod classic and the third-generation iPod nano. Earlier iPods, including fifth-generation iPods sold before the September 2007 release of the sixth-generation iPod classic, are incompatible with rented videos.
The whole
forced obsolescence
scheme Apple has been using may be great for business, but it's quite the snub for their customers.
comments [

3

]
CALIFORNIA AND THE BEAST
2007-09-09 20:11:34
by: jovial_cynic
At the end of August, the California senate
blocked mandatory employee RFID chipping
in the state, which is technical way of saying that companies in California are no longer allowed to require employees to be implanted with radio-frequency identification chips to remain employed.
Until reading that article, I had no idea that mandatory chipping even existed in the United States. Apparently, the privacy-eliminating technology has been spreading, and companies like CityWatcher.com are already requiring certain employees to be chipped.
CityWatcher.com, a Cincinnati video surveillance company, has required employees who work in its secure data center to have a microchip implanted in an arm.
I hate thinking of the end-of-the-world scenarios that come from requiring employees to be tagged so they can be tracked anywhere they go, but... the speed at which chipping technology is growing (chip your pets if they get lost!), the notion of totalitarian government/corporate control is hardly the stuff of fantasy. It's apparently just around the corner.
comments [

4

]
TOYS OF DOOM
2007-08-19 17:08:11
by: jovial_cynic
Stupid Chinese companies and their use of lead paint on the toys I buy for my kids.
Seen below are Dora the Explorer and her cousin Diego, both of which have been recalled. Fantastic.
Since I paid very little for them (I picked them up at a garage sale), I've decided that instead of returning them to the manufacturer, I'm going to bring them to work and add them to my cubicle decorations.
And of course, this topic leads to all sorts of conversations regarding capitalism, outsourcing, minimum wage regulation, social responsibility, and all sorts of other buzzword issues.
comments [

2

]
DISSENT
2007-05-01 16:22:27
by: jovial_cynic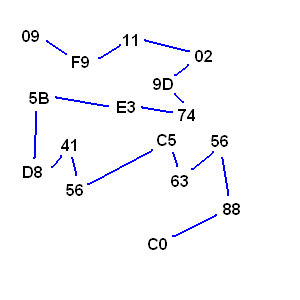 Those are the
numbers
of the week.
... or if you prefer binary:
1001 11111001 10001 10 10011101 1110100 11100011 1011011 11011000 1000001 1010110 11000101 1100011 1010110 10001000 11000000
It's amusing how much
rage
is going across digg.com right now over this.
comments [0]
EXPLORE FIREFOX
2007-01-04 13:49:37
by: jovial_cynic
Use Firefox.
Over the course of 2006, Internet Explorer (used by roughly 80% of the online community) was left with at least one
GAPING SECURITY HOLE
for 284 of the 365 available days of the year - nearly 78% of the time. For people involved in online banking, online purchases, or the posting of any personal data online, this
has
to be as horrifying as it is unacceptable.
For a total 284 days in 2006 (or more than nine months out of the year), exploit code for known, unpatched critical flaws in pre-IE7 versions of the browser was publicly available on the Internet. Likewise, there were at least 98 days last year in which no software fixes from Microsoft were available to fix IE flaws that
criminals were actively using to steal personal and financial data from users
.
And the record for Mozilla's Firefox browser?
In contrast, Internet Explorer's closest competitor in terms of market share -- Mozilla's Firefox browser -- experienced a
single period lasting just nine days
last year in which exploit code for a serious security hole was posted online before Mozilla shipped a patch to remedy the problem.
So... why haven't
you
switched yet?
comments [

4

]
2006-10-26:
WAL-MART: $4 PRESCRIPTIONS
2006-10-18:
GROUNDHOG DAY 2
2006-10-18:
THE PEPSI/COKE BATTLE
2006-09-20:
WALMART VS. AMAZON
2006-08-24:
HIGH GAS PRICES: US PENSIONS FUNDS?
2006-08-08:
BP'S OIL TRIFECTA
2006-04-19:
PHILLIPS' BRIGHT IDEA
2006-03-21:
SUPER HEROS -- UNDERWEAR PERVERTS
2006-01-30:
RECORD PROFITS AGAIN
2005-12-07:
OPEN LETTER TO SAFEWAY
2005-11-21:
TEXAS VS. SONY
2005-11-03:
SONY MALWARE: PART 2
2005-11-02:
SONY MALWARE
2005-10-29:
GAS COMPANIES - BIG PROFIT
2005-09-07:
YAHOO AND THE DRAGON
2005-07-19:
OF GIANTS AND MEN
2005-06-06:
CITYFINANCIAL *LOSES* CUSTOMER DATA
2005-06-01:
NO LONGER YOUR COMPUTER
2005-06-01:
STERILE BURNING
2005-05-23:
BANK OF AMERICA
2005-05-06:
QUALITY, BY GOOGLE
2005-05-05:
GOOGLE'S BLOG
2005-05-05:
GOOGLE WEB ACCELERATOR
2005-05-04:
A BIGGER WAL*MART
2005-04-28:
BLOCKBUSTER ZOMBIES
2005-04-25:
WEATHERBUG AND THE NWS
2005-04-19:
ADOBE + MACROMEDIA = SUCK
2004-10-27:
GREEDY CELLPHONE COMPANIES
2004-09-21:
HARBOR FREIGHT
2004-09-17:
EBAY AND CENSORSHIP