Horror of Horrors
Terrifying stuff, man. Terrifying stuff.
I'm not actually concerned about the future of mankind. At least, not as far as doomsday reports and all that go. But I do like to entertain the idea. Sometimes, I just sit back and try to imagine the ways in which the end of humanity might happen: at the hands of the machines we've created; by a plague that we've engineered; by consuming all of our available food; etc., etc. It's interesting that many doomsday stories indicate that we will be our own undoing... but I wonder how much of that is meant to inspire people into prevention?
In any event, I find it fascinating. A little morbid, maybe.
Here, among reports of the way the world might end, are other strange things that I've found online.
BALL DRONES
2011-06-12 08:37:44
by: jovial_cynic
Just another step closer to our creations rising up against us:
Feed readers can click
here
.
This flying ball can go upwards of 40mph and chase you anywhere. We are doomed.
comments [0]
RECYCLING IS FOR THE BIRDS
2009-10-26 14:46:44
by: jovial_cynic
Back in 2007, I wrote
a post
about the
Great Pacific Garbage Patch
, and about how Ranger Rick had been warning us for years about where we put our garbage. None of us realized until this last decade that all the garage was floating around in the ocean.
And of course, being out in the ocean, no nation is legally required to do anything about it - there are no laws that govern the trash in the ocean, and it won't be until that trash has a direct impact on our own lives that anyone will be willing to do anything about it. And by then, it'll probably be a considerably larger mess to clean up.
A set of photos from Chris Jordan's "
Message from the Gyre
" taken this month are a haunting glimpse into what is heading our way:
These photographs of albatross chicks were made just a few weeks ago on Midway Atoll, a tiny stretch of sand and coral near the middle of the North Pacific. The nesting babies are fed bellies-full of plastic by their parents, who soar out over the vast polluted ocean collecting what looks to them like food to bring back to their young. On this diet of human trash, every year tens of thousands of albatross chicks die on Midway from starvation, toxicity, and choking.
To document this phenomenon as faithfully as possible, not a single piece of plastic in any of these photographs was moved, placed, manipulated, arranged, or altered in any way. These images depict the actual stomach contents of baby birds in one of the world's most remote marine sanctuaries, more than 2000 miles from the nearest continent.
~cj, October 2009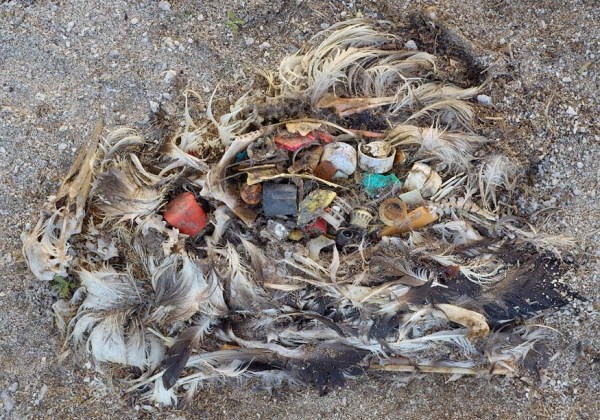 And there are many more images on
Chris Jordan's site
.
It's more than haunting, really. It's horrifying. And our insatiable hunger for cheap disposable crap is fueling it all.
comments [

5

]
T-1000 REVISITED
2009-10-16 09:39:20
by: jovial_cynic
We're getting closer and closer to Dooms Day.
First, this machine's ability to react to its surroundings amazing, and frightening:
And now, we're getting closer to making machines able to squeeze through tight spaces (like a liquid), and it's easy to see how this technology will be quickly adapted to be able to programmatically take on any shape possible. Horrifying.
We are doomed, doomed, doomed.
comments [

2

]
QUICK THOUGHTS ON THE FLU
2009-04-28 11:10:34
by: jovial_cynic
A coworker IM'd me regarding the human/swine/bird hybrid flu that's going around. I'm not one to copy/paste chat-logs, but I figured I'd step out and do it.
coworker [10:57 AM]:
Do you worry at all?
coworker [10:57 AM]:
Or do you think it's hype?
me [10:58 AM]:
um... i don't worry, but i don't think it's hype. my family isn't prone to the flu anyway - our lifestyle doesn't put us in places where we catch the flu with any sort of regularity; none of us have ever had the flu shot.
coworker [10:58 AM]:
Interesting.
me [10:58 AM]:
so... another strain of flu might kill people, but since our lifestyle doesn't put us in the path of the regular flu, i don't suspect we'll be in the path of a DEATH OMG flu.
me [10:58 AM]:
so that's my first thought.
me [10:59 AM]:
my second thought is that it hasn't been fatal outside
the US
(correction) Mexico yet, and I suspect that's because people are getting treated as soon as they suspect that they're sick. this flu leads to pneumonia-like symptoms, and THAT'S what's been killing people in mexico.
me [11:00 AM]:
but i think it's the lack of medical attention that's been fatal. prior to knowing that it *could* kill you if untreated, people seemed to just wait it out, like you would with a regular flu.
coworker [11:00 AM]:
Having been in Honduras last year, I can tell you medical services outside of the USA are sketchy at best.
coworker [11:00 AM]:
And limited.
coworker [11:00 AM]:
Largely a luxury of the rich.
coworker [11:00 AM]:
And hygenie isn't even a consideration.
me [11:01 AM]:
not really the case in Mexico city, though. it's fairly up to date, medically speaking. i think the problem is that people *weren't* seeking medical attention, or at least not until it was too late.
coworker [11:02 AM]:
I getcha.
me [11:02 AM]:
with all the media, everybody now is getting medical attention right away, so that should prevent widespread fatalities. this flu may be lethal, but only if untreated. like catching TB or something. my wife has had TB, but it was treated, and she's fine.
coworker [11:02 AM]:
You blogging this online?
me [11:02 AM]:
negative.
me [11:03 AM]:
too early to say, yet. this is merely my *theory*, and i don't feel like posting incorrect theories. ha!
coworker [11:03 AM]:
Why not? Millions swear by it!
me [11:03 AM]:
aye. the world's a'twitter with rumors. however, i don't need to feed the mill.
So I've now officially blogged the flu. We'll see in a few days if the WHO bumps up the threat level. This is certainly an exciting time to be alive.
comments [

4

]
SWINE FLU OUTBREAK
2009-04-24 13:02:02
by: jovial_cynic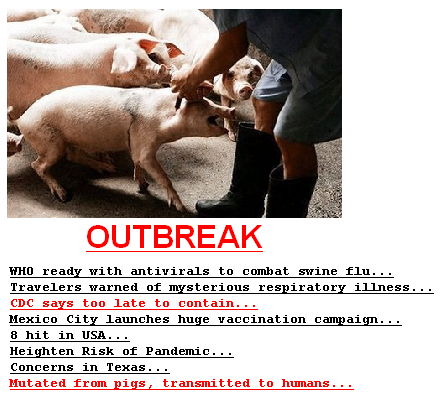 The
Drudge Report
has a rather alarming set of links up today.
reuters
cbc
alertnet
breitbart
reuters
bloomberg
yahoo news
alternet
I
knew
God told the Israelites to stay away from pigs for a reason...
comments [0]
2008-07-28:
MONKEY FACED PIG
2008-04-30:
T-1000
2008-03-24:
OF SWINE AND IMMORTALITY
2008-03-21:
ROBOT FUTURE (VIA THE ONION)
2008-03-17:
BIGDOG WALKER-BOT
2008-01-21:
WHEN THE ZOMBIES COME
2007-11-05:
SEA OF FILTH
2007-10-26:
WHY WHY WHY?
2007-08-01:
MORE ROBOTS
2007-07-18:
RAGE AGAINST THE MACHINES
2007-06-04:
RADIATION, SPORES, AND SPACE MONSTERS
2007-05-25:
LOTS OF HAM
2007-05-23:
SUN SPIDER
2007-03-14:
BIONIC EVERYTHING
2007-03-13:
THE MACHINES ARE LEARNING
2007-03-13:
SELECTIVE MEMORY... DELETION?
2007-03-11:
VENTRIA RICE IS PEOPLE!
2007-03-11:
HORROR OF HORRORS
2006-11-09:
MM. TASTES LIKE BACON.
2006-10-28:
FOUR LEGS. TWO BUTTS.
2006-08-20:
BACTERIOPHAGE
2006-06-01:
RED RAIN: THE ALIEN INVASION
2006-05-23:
BEGINNING OF THE END?
2006-05-19:
RIVERS OF... SUNNY D?
2006-04-19:
MUMPS OUTBREAK
2006-03-15:
YUP - WE'RE ALL GONNA DIE
2006-01-09:
ONE-EYED CAT
2005-10-28:
R/C ME
2005-07-13:
CONTROLLING THE BEAST
2005-06-27:
ZOMBIES AND THE SOUL
2005-05-27:
THE END IS NIGH
2005-04-25:
EXPLODING TOADS