Site Updates
Everything newprotest.org
I'm sure that not everybody is interested in how a site is constructed, especially with simple blog-in-the-can software that's out there. However, I like to know the ins-and-outs of everything I'm working on, so I've managed to build this entire site from scratch.
As my goals for the site change, I tweak the code. Sometimes it's to add functionality, and sometimes it's to remove redundancy. But it's always to make things a little better.
WOW. TWO YEARS?
2020-06-10 11:15:45
by: jovial_cynic
It's been over two years since I've updated this site. Weird.
I've been doing a lot over at
the podcast website
, which has been taking up a lot of my time. Between managing the audio/visual content, keeping the site interesting, coming up with podcast content, etc., etc., it's a lot of work!
Plus, the day job, the 3d printing/scanning hobby, and I guess now I'm fiddling around w/ game development using Godot? I sure know how to keep myself busy.
Anyhow, I just wanted to post something here, so here it is.
comments [0]
CATEGORIES OVERHAUL
2008-11-11 12:43:57
by: jovial_cynic
I've recently performed an overhaul on the categories page of this site, which is what brings up all the posts of a particular topic. Right now, the content is broken down into the following sections:
CRITICISM
PROJECTS
MISC
Under each heading is a list of sub-headings, which previously linked to an archived list of posts from that sub-heading. In the past, that archive was just a list of links and dates. Now, clicking on one of those sub-headings provides the reader with a brief description of the sub-heading, full-text of the five most recent posts, and the rest of the posts archived as links.
This should make the site a little more pleasant to navigate. It also gives me the flexibility to change the focus of the category on the fly. This is much better than a column of links.
comments [

4

]
SHIFTING RELIGION
2008-05-23 07:59:12
by: jovial_cynic
I've got two religion sections on my site - one is titled
religion
is under the "criticism" category of my site, and is a list of criticisms of mainstream western Christianity, and the other is titled
theology
and it sits under my "projects" heading. The theology section is a study of the Christian text, and is meant to open up a dialogue about how the text can be understood.
I have to shuffle some of the articles around, because once upon a time, I just threw every post that had anything to do into the religion category -- that was before the theology post existed. Eventually, I plan to fully enable some tagging onto my posts, so the categories will be less limiting.
Also, sorry for the lack of posts recently. My new job has kept me pretty busy lately, and since I write most of my blog posts while at work (shame on me, I know, I know), the blog has taken a hit.
comments [

10

]
SLOW WEEK
2008-04-17 07:07:06
by: jovial_cynic
Sorry for the lack of posts lately. I've been down with pneumonia, and I'm still not at 100% yet.
comments [

10

]
SEARCHING FOR SOMETHING
2008-02-25 13:42:05
by: jovial_cynic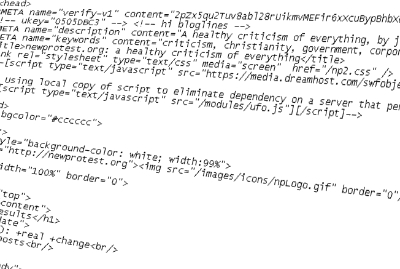 edited with
a.viary
A while back, I wrote a blog post or a comment about grassroots movements, and how real change in the social world doesn't happen at the top, but rather it happens at the bottom, and that in order to make something happen, the people in the weeds either drive the action, or they passively permit things to happen to them. In the case of the corporate world, the consumers (unwittingly) are the ones empowering businesses for good or for ill; successful businesses simply feed off of the crowds. And from that notion came some ideas about how real leadership in politics was as much about influencing and changing people as it was being able to feel a pulse on the people and accurately representing them.
I went hunting for that post, because I thought it would be clever to complain that "xyz candidate plagiarized my words!" (both Obama and Clinton have mentioned the power of grassroots movements). I used that search function I built for my site, but I couldn't find it in any of my posts, so I modified the search function to also search through comments... but I can't seem to find it in there either.
Weird. It's possible that I wrote it on another blog instead of my own, and I'll never be able to track it down. Blast.
In any event, I've upgraded my search function to allow users to search either through the posts or through the comments. It doesn't yet allow you to search through both at the same time, but I'll see about making that change.
comments [0]
2007-12-27:
SET UPGRADE
2007-12-04:
EVERYTHING EVERYWHERE
2007-11-09:
SEARCH FEATURE BUILT
2007-10-07:
SECURITY UPDATE
2007-07-11:
IMAGE-LEECHING LEECHES
2007-06-23:
OTHER AREAS OF THIS BLOG
2007-06-03:
MY OWN TWITTER
2007-04-16:
DIGG THIS
2007-02-15:
DATSUN 510 BLOG
2007-01-11:
CONTACT ME
2006-12-20:
PROBLEM WITH COMMENTS -- FIXED
2006-11-30:
REPORT: 11.2006
2006-10-31:
REPORT: 10.2006
2006-10-24:
WENDY'S TRIPLE CLASSIC WITH CHEESE
2006-10-17:
WHAT DID YOU DO?!
2006-10-17:
TEMPORARY SITE REDESIGN
2006-10-08:
REDESIGN... AGAIN?
2006-10-08:
WEBHOST CHANGE
2006-10-07:
UPDATED RSS FEED
2006-10-06:
TAG, YOU'RE IT
2006-10-05:
SECURITY CODE
2006-09-24:
15 MINUTES OF FAME
2006-09-22:
SITE ARCHIVES
2006-09-15:
QUOTE THIS
2006-09-14:
TRUTH, LIFE, AND POLITICAL HONESTY
2006-09-04:
ADDED: LIFE'S JOURNEY
2006-08-29:
FONT SIZE
2006-08-24:
CREATIVE COMMONS
2006-08-18:
NEWPROTEST 5.0
2006-08-15:
THE WHITE PAPERS
2006-08-04:
SERVER MOVE
2006-07-06:
PONDERING ANOTHER REDESIGN
2006-06-15:
BLOGLINES
2006-06-12:
WIKIHOW
2006-06-09:
WORLD CUP TICKER
2006-06-07:
TAKE THAT, BLOGGERS!
2006-06-06:
THE WHITE PAPERS
2006-06-01:
TECHNORATI
2006-05-31:
RANDOM IMAGES
2006-05-31:
ESSAYS
2006-05-27:
MAJOR SITE UPDATE
2006-05-11:
MARTIAL ARTS PAGE
2006-05-01:
MAJOR SITE CHANGE
2006-04-11:
SITE UPDATE
2006-04-05:
PING!
2006-03-20:
LIMERICK NAVIGATION COMPLETE
2006-03-19:
LIMERICK OF THE MOMENT
2006-03-14:
WHERE ARE THE ESSAYS?
2006-01-23:
SUPER RAD HAIRSTYLES
2005-12-23:
GENERAL SITE INFO
2005-12-15:
SITE UPDATE
2005-11-01:
AND...
2005-11-01:
NEW FEATURE ADDED!
2005-11-01:
CIRCUMVENTOR
2005-10-08:
THE FORUM IS OFFICIALLY UP
2005-10-08:
BROWSER DIVERSITY IS HERE
2005-09-23:
NEWPROTEST FORUM
2005-09-01:
GENERAL BS
2005-05-14:
ESSAYS
2005-04-21:
EUREKA! BLOGLINES SEES ME!
2005-04-05:
NEWPROTEST.ORG (V4.0)
2004-09-15:
NEWPROTEST 3.0