Charity
Doing what I can to help folks out in my local community.
image:
Down and out on New York pier.gif
(Public Domain)
There's a Christian t-shirt I once saw that changed my perspective on what it means to be a Christian who is trying to share the good news with other people. The shirt had a picture of a starving child in Africa, and on it, it read, I cannot hear your gospel over the grumbling of my stomach.
That shirt changed my life. Now, my wife and I do what we can to put ourselves in a position to help the homeless and poor in our community. We deliver a social gospel -- one that involves meeting the felt-needs of the people around us. There's no agenda. No intent to convert. Just... helping people. I believe this was the work of Christ to the poor and unfortunate. This is the work we are called to carry out.
With the US economy falling apart, those who we would call "poor and unfortunate" are no longer people over there. They are our own neighbors. Our own friends. The opportunity to help is only growing.
HUNGRY AND COLD
2007-12-06 14:01:22
by: jovial_cynic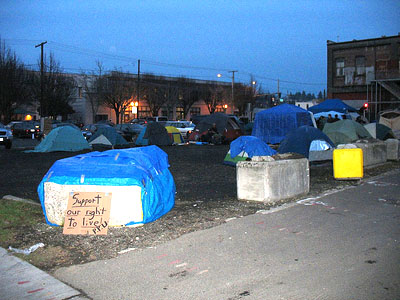 image:
Oly Tent City
(
cc
) televiseus
The picture above is the Olympia tent city, known as Camp Quixote. At the time the picture was taken, Camp Quixote was located in a parking lot downtown. It was originally established as a protest to an Olympia city ordinance that was issued early in February 2007 that targeted panhandling by banning
sitting
on the sidewalks during the day. For many of the homeless, panhandling has been the only way for them to get money to eat; many of the 1,000 homeless individuals suffer from mental disabilities that prevent them from keeping regular jobs, so the ordinance has introduced greater difficulty for them. The tents provide some shelter from the weather, and with donations from people in the community, warm clothes and food are also being provided.
Today, the 25-person camp is located at the United Methodist church in Olympia and will remain there until December 29th, after which it will move to First Christian church. The camps can only stay in a single location for 90 days, after which they are forced to relocate.
My wife and I recently went on a shopping trip to pick up some coats, hats, and umbrellas, as well as some hand-warmers for the people in the camp. We've decided that we want to be more active in the community, and to be directly involved in the lives of people who have the greatest need. We want to partner with groups (such as the camp) who are already knee-deep in the situation, and are doing whatever they can to help. And we want to help people get out of the situation they're in and work to equip them with skills and opportunities they need to get back on their own feet.
And all this work we're doing has created a bit of a perspective change for me. For example... I've never been hungry before. Not in a real sense, anyway. Even when I was a kid and my parents didn't have much money, there was never a time when I couldn't just reach into a cupboard and grab
something
to turn away the creeping feeling of hunger. In my 29 years of living, I don't believe I've ever gone a whole day without eating. I've never experienced the inability to satisfy that feeling of hunger. And now I'm face-to-face with people who deal with that kind of hunger every day. What's that like? What is it like not knowing when your next meal will come?
When I check the weather, I look at the report to see what driving conditions will be like. But for people who have no home, much less a car, the weather report these days forecasts a night of cold and wet despair. What's that like?
I live in such an insulated world. Disaster is something I see on television during a five-minute news brief. Hunger is the two minutes between a rumbling in my stomach and mouthful of a warm meal. Cold is time between starting my van and having it warmed up. The conditions of poverty simply don't exist in my world... and while I don't feel
guilty
that I've been so blessed, it makes me want to spend less frivolously. It makes me want to waste less. It makes me want to take the abundance of blessings God has poured out on me and turn around and pour it out on people who, for unknown reasons, have not been similarly blessed.
Christmas is coming. Give to the people who need the most.
comments [

9

]
BYE BYE, MOTORHOME
2007-05-08 10:57:25
by: jovial_cynic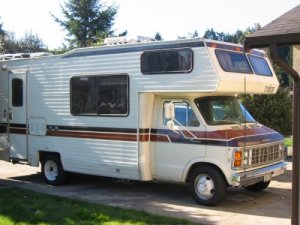 We finally got rid of our motorhome, but it wasn't the way we had planned.
For the last month, my wife and I have chatted about putting money aside towards a house-fund. We now have a five-year goal of putting together a good chunk on a down payment, and we figured that selling the motorhome for about $3,500 would bring us that much closer to our goal. Saving money and decreasing our potential future debt are good objectives, and we look forward to living in our own house.
I listed the motorhome on craigslist and got a few offers for trade, and then received an e-mail from someone at the
Emergency Management Division
of Washington State, and they asked if I'd be willing to donate the motorhome to a family who's home/RV had been crushed by trees during the last windstorm. These folks are currently living with family or trying to make do in their leaking and crushed homes... so after talking it over with my wife, we decided that we'd sacrifice the $3,500 and help some people out.
It was a difficult decision. I'm the money-maker in the house, and I've got a wife and three children. $3,500 is quite a bit of money for us. However, when we weighed the two options, it felt kind of odd to put that money towards a down-payment on a dream house when these folks have no house to speak of at all. My wife and I prayed about it and felt the same way, so when it came down to it, it wasn't really a choice at all.
The bible talks about it being better to give than to receive... I never thought about that much until recently. I think the point is that it's better to be in a position where you can help people out by giving to them; being in a position where you have to receive in order to eat and have a leak-free roof over your head sucks. I'm glad to be in a place where I can help folks out.
Whoever you are that received the motorhome (the State department won't give out that information), I hope you enjoy your new home. God bless -
comments [

3

]
CHARITY DATABASE STARTED
2006-12-04 23:28:15
by: jovial_cynic
I've done it!
For the last year, I've been collecting clothes, food, and money to give out to needy folks in my community, but I didn't have a system to keep an inventory of the items I've collected, nor established a way to effectively distribute the goods.
Today, I finally assembled a large part of the database that will house all of that data, providing a convenient way for me to enter items I have, as well as to allow other people to enter items they have, effectively creating a network of donators who can mobilize goods to deliver them where they are most needed. Not only does this eliminate the need for mass storage (ie., I'd really like people to stop bringing me bags of clothes...), but it allows people to contribute in a targetted manner. Instead of delivering a bag of clothing to a charity, a person can list the items they have available and be notified when a particular family has a need that the particular person can directly meet. Of course, this will require a bit of transportation logistics, but in the end, I think it'll work nicely to know that you donated to a particular person or family in your own community.
Anyhow, I've got a bit more constructing to do, and I have to build some database tables that will account for goods other than clothing. Things like food, furniture, dishes, appliances, etc., etc., have to be considered, and I have to figure out a handy way to sort all of that data. In the meanwhile, I've got about 12 large bags of clothing to dump into the database...
comments [

3

]
CHARITY PAGE RESTRUCTURE
2006-01-30 14:33:22
by: jovial_cynic
I just reorganized the charity section on this site, moving all the content into a database, just like all of my other project pages. The page doesn't quite have all the information I want on it yet, but it will. Moving it to a database is the most important part.
I'm going to work on a section of the charity page that'll allow folks to post needs they have, as well as post goods or services available. All of it will be donation based, and should be fully automated so people can push and pull posts as they see fit. I'll chart out the progress of that site on the charity page, so make sure to check that section out periodically.
comments [0]
VALIDITY IN THE CHURCH
2006-01-30 00:00:00
by: jovial_cynic
My pastor invited me to give a short blurb to the congregation explaining my charity program and how it can be tied into the church. It looks like the church may actually become a major source of support, whether through raw materials or funds -- how exciting!
I've decided to split my efforts into two directions -- one specifically geared towards the church body, and one for the local community. The church portion will be to meet the needs of the members of the church I attend. If the church body can't take care of its own members, why rely on it to take care of anybody, right? So, I'm working with the pastor to create a "see a need, fill a need" kind of page on the church's website so people can post things they need, or things they have available. I'd like it to be automated, so people can post and pull posts as become available or unavailable. I plan to create a similar feature on my site so I can help move goods and services around within the community. Good times.
In similar news, I've nearly completed my final piece necessary to get into the masters in Public Administration program. I'm writing up a paper on community-solutions to the welfare/homeless problems. As soon as I get that done, I'll get everything turned in and cross my fingers...
comments [0]
2006-01-12:
CHARITY PLANS
2005-12-19:
LOTS OF CLOTHES
2005-12-07:
CHARITY SUPPORT
2005-11-29:
DETAILS OF THE CHARITY
2005-11-29:
SPECIFICS
2005-11-22:
UPDATES
2005-11-18:
WHAT'S IN A NAME?
2005-11-17:
NO MORE BREAD, NO ROSES
2005-11-16:
FOOD FOR THE HUNGRY
2005-11-16:
FOOD FOR THE HUNGRY
2005-11-14:
DESIGNING THE CHARITY SECTION
2005-11-13:
LOOKING FOR DONATIONS!
2005-11-11:
STORIES SECTION
2005-11-10:
CHARITY
2005-11-08:
CHARITY BEGINNINGS