THE WOMAN AT THE WELL
January 15, 2009
by: jovial_cynic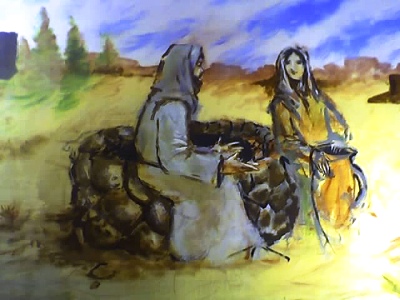 image:
Jesus and the Samaritan Woman
(
cc
) tribalicious
There's a story in the Scriptures of a woman whom Jesus meets as He and His disciples passed through Samaria - a city on the way to Galilee.
Now [Jesus] had to go through Samaria. So he came to a town in Samaria called Sychar, near the plot of ground Jacob had given to his son Joseph. Jacob's well was there, and Jesus, tired as he was from the journey, sat down by the well. It was about the sixth hour.
When a Samaritan woman came to draw water, Jesus said to her, "Will you give me a drink?" (His disciples had gone into the town to buy food.)
The Samaritan woman said to him, "You are a Jew and I am a Samaritan woman. How can you ask me for a drink?" (For Jews do not associate with Samaritans.)
Jesus answered her, "If you knew the gift of God and who it is that asks you for a drink, you would have asked him and he would have given you living water."
"Sir," the woman said, "you have nothing to draw with and the well is deep. Where can you get this living water? Are you greater than our father Jacob, who gave us the well and drank from it himself, as did also his sons and his flocks and herds?"
Jesus answered, "Everyone who drinks this water will be thirsty again, but whoever drinks the water I give him will never thirst. Indeed, the water I give him will become in him a spring of water welling up to eternal life."
The woman said to him, "Sir, give me this water so that I won't get thirsty and have to keep coming here to draw water."
He told her, "Go, call your husband and come back."
"I have no husband," she replied.
Jesus said to her, "You are right when you say you have no husband. The fact is, you have had five husbands, and the man you now have is not your husband. What you have just said is quite true."
"Sir," the woman said, "I can see that you are a prophet. Our fathers worshiped on this mountain, but you Jews claim that the place where we must worship is in Jerusalem."
Jesus declared, "Believe me, woman, a time is coming when you will worship the Father neither on this mountain nor in Jerusalem. You Samaritans worship what you do not know; we worship what we do know, for salvation is from the Jews. Yet a time is coming and has now come when the true worshipers will worship the Father in spirit and truth, for they are the kind of worshipers the Father seeks. God is spirit, and his worshipers must worship in spirit and in truth."
The woman said, "I know that Messiah" (called Christ) "is coming. When he comes, he will explain everything to us."
Then Jesus declared, "I who speak to you am he."
~ John 4:4-26 NIV ~
For those unfamiliar with the tension between the Samaritans and the Jews in the text, it must be noted that the two groups are separated by more than just ethnicity. The Samaritans were of Jewish descent, who later became "impure" on account of their intermarrying with Assyrians and other non-Jewish people after the Assyrian conquest of Israel. The Jews of Jesus' day laid claim to a "clean" bloodline, tracing their lineage back to the tribe of Judah or the priestly bloodline of Levi - these Jews did not intermingle, but kept their traditions and culture in tact, even after the Babylonian conquest of Judeah. Because of the physical divide between the people of Samaria and Judeah, the Samaritans eventually built their own temple on the mountain in Samaria to worship God, whereas "true" Jewish worship (according to the Scriptures) could only be conducted at the temple in Jerusalem. The Jews knew this, and from the Samaritan woman's words, she too understood that the Jews laid claim to both ethnic and religious purity.
It's interesting to try to project ourselves into the text. Some people find themselves viewing the story from the perspective of the woman at the well -- rejected by people due to her ethnic background, rejected by society on account of her relationships, carrying the burden of shame. And from that perspective, they see the hand of the Messiah extended to them, offering them living water.
I wonder if the text should also be viewed as a cautionary tale for today's believers who, like the Jews of the day, believe that there is only one place appropriate for worship (the temple of their denomination). Perhaps today's believers shun entire groups of people for being
impure
, and for failing to adhere to established religious rules. And maybe believers today are technically correct, but fail to see the bigger picture of the living water offered by Christ.
Jesus' own words: "
You Samaritans worship what you do not know
; we worship what we do know, for salvation is from the Jews."
Jesus affirms that the Jews are "doing it right," and that the Samaritans are worshipping "what they do not know." They're doing it wrong. But Jesus doesn't draft up a 3-point sermon outlining the way in which the Samaritans should clean up their act. He doesn't bring out The Book and spell it out for her. When she says, in her purest cry of faith, "I know that Messiah is coming. When He comes, He will explain everything to us," Jesus declares, "I who speak to you am He."
How, then, should belivers view people who call themselves believers, but don't look or act like it? Have we, like the Jews of Jesus' day, become spiritually ethnocentric, believing in error that our way of worship is the only way? Or can we accept that the Samaritan woman's simple act of faith -- a simple statement of belief that the Messiah will come and fix things -- is sufficient for salvation?
Believers today are called to worship God "in spirit and in truth." What does that mean in this context?