MYSTERY OF LIFE
June 29, 2008
by: jovial_cynic
Two years ago, I built a
potting bench
that I never actually got around to using until this year. I liked having it on the back deck, but as I always planted my seeds directly in the ground, I didn't actually have much use for the potting bench, except to hold my tools.
This year, I rounded up a bunch of seed pots and decided to see what I could get going on the potting bench itself, and it has apparently turned out quite well.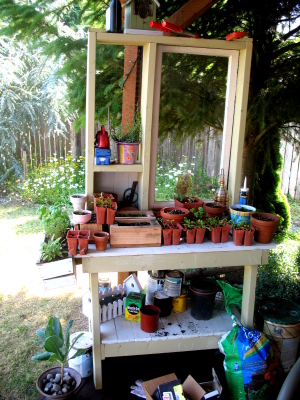 And here you can see all kinds of things growing: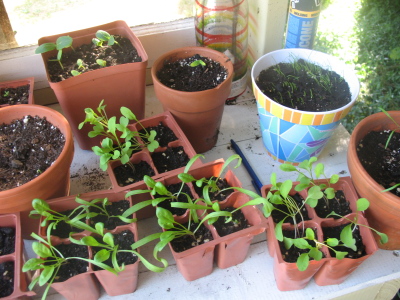 The only problem is that I have no idea what I planted. I think I've got spinach growing... and maybe some chives... kalrobi, maybe? I don't remember. I know that it's
food
, though, and that none of it has any poisonous parts (like rhubarb leaves)... so I'm not worried. But it is a mystery.
In other news, I have an
ornamental
broccoli
cauliflower plant growing. It's not actually ornamental. Or rather, it's not an ornamental breed. It's just a regular
broccoli
cauliflower plant that's a couple of years old, and it keeps growing. I like it.