Y-AXIS NOW OPERATIONAL
March 08, 2008
by: jovial_cynic
After quite a bit of cobbling and rigging things together, I got the Y-Axis working. I used a plywood base, and used cut sections of 2x4s to mount the far roller-bearing, and used a piece of plastic cutting board to mount the near roller-bearing.
Here's the motor mounting block -- you can see that the motor is not screwed to the blocks yet.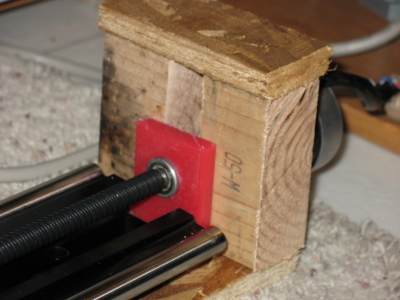 Here you can see the cutting board where the roller-bearing is mounted.
This linear actuator uses a lead-screw instead of a belt like the
X-Axis
is using. It feels more solid and precise, but I don't know if it actually is.
In any event, here's a video of the Y-axis is motion.
The motor is not fully mounted to the wood base yet -- that's what's causing the knocking sound.