FIRST RUN: X-AXIS
March 02, 2008
by: jovial_cynic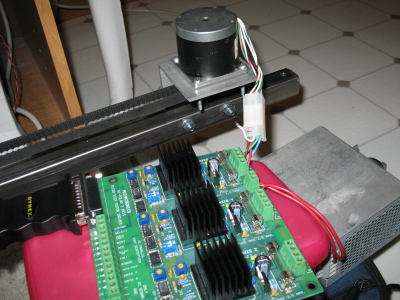 After buying a few wrong cables (it turns out that you cannot use a parallel-to-USB adapter) and collecting as much information as I could from the
CNC Zone forum
, I made some tremendous progress on the CNC machine.
The first thing I had to do was to figure out how to wire up the stepper motor to the controller board. The board has 4-pin terminals for the motors, but the
motors I purchased
were 6-wire motors, so it took me a while to figure out which wires were unnecessary, and then what order the wires need to be to work with the controller.
I went through nearly every configuration possible before I read that you can control the voltage going to the motors by turning a surface-mounted potentiometer. I had nearly
no
voltage to the motor, causing the motor to hum, but not actually do anything. Once I figured out the problem, I set the proper voltage and got the motor to move.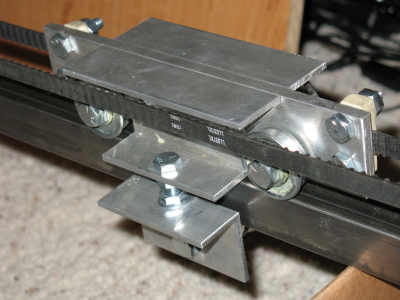 I currently have the X-Axis of the CNC machine set up. After getting the motor to run last night, I figured it was now time to get the X-Axis to move.
Check it out:
Now that the X-Axis is complete, it's time to start building the table, and mounting the Y-Axis on top of the X-Axis platform.