MULTI-EFFECTS PROCESSOR
November 20, 2007
by: jovial_cynic
Several months back, I took a small chance and purchased a used multi-effects processor board (DOD VGS50) from a guy online. The seller didn't know if it still worked, and didn't have the AC adapter available, so he was willing to sell it for the price of shipping.
$10 and a few days later, this arrived: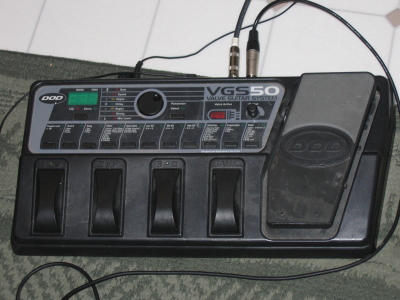 I did some research to find a compatible 9v/750mA AC adapter, and after another $6 or so, I got the AC adapter and hooked everything up.
And...
nothing
.
I was a little disappointed, but it was only a $16 loss, so I didn't feel too badly about it. I did wish I had a working multi-effects processor, though.
Today, I was scouring through my throw-away pile of electronics, and found another 9v AC adapter and figured I might as well give it a try. I plugged it into the processor, my
homemade guitar amp
, and my electric violin, and sure enough, it worked.
I compared the two AC adapters, and it looks like the one I purchased (9v/800mA) wasn't cranking out enough current -- the one that worked could push a whole 1500mA. It's odd that the stock adapter was rated at 750mA, though. Or at least, the machine listed it that way. Maybe they were being tricky...
In any event, I'm VERY excited about this thing. I've played through all the factory preset effects, and I'm going to start making my own soon.