SO A HAWK AND A STARLING FLY INTO A BAR
September 29, 2007
by: jovial_cynic
And they both die.
While welding up my
latest figurine
, I heard two loud *THUMPS!* against the sliding glass door about four feet away from me. I walked over and saw this at the foot of the door: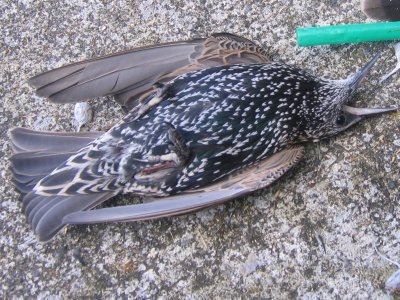 That's right. The hawk was chasing the starling and the starling didn't see the glass (just like that stupid Windex commercial with the two magpies), and the impact was enough to kill them. Poor birds. The starling didn't die on impact; it was gasping for breath, but it was clear that the bird's neck was broken, as it couldn't hold its head in place. It died about a minute later.
Here are some more pictures.
both:
hawk's face: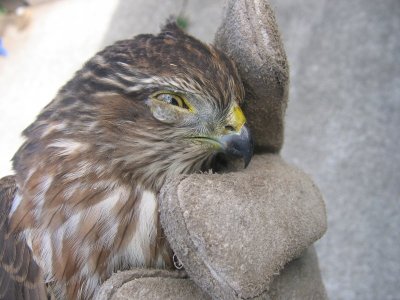 hawk's claws: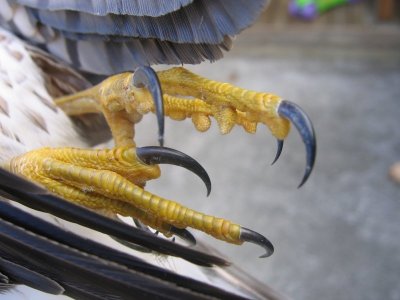 hawk's wing: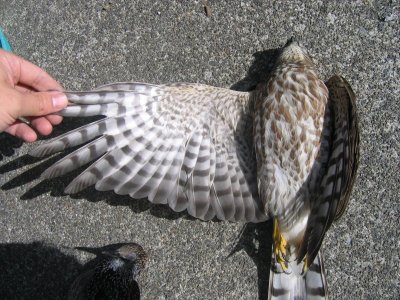 starling's wing: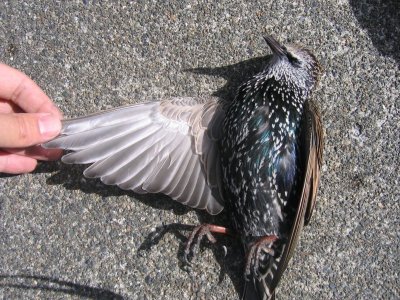 hawk, ready to be buried: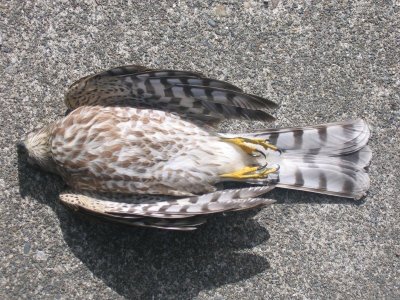 starling, ready to be buried:
I originally thought the starling was a woodpecker, but I was corrected in a forum where I posted the images. It is, in fact, a European Starling, which is apparently not native to this area (western Washington) and quite a pest. Bird lovers around here do not love that bird.
The hawk, on the other hand, is quite a lovely creature; it's a pity that it died.
Apparently, it's illegal to possess a migratory bird, and since I don't want to keep the hawk in my freezer until Monday (when the department of Fish and Wildlife opens), I called up my state patrol friend to ask him what I should do with the birds. He said to bury the birds and call it done. So... if anybody from the fish and wildlife comes knocking, I've got my state patrol friend's number.
Anyhow, the birds are now in the ground together. So sad. Birds are such beautiful creatures.