BUILDING MY OWN ANT FARM
June 13, 2007
by: jovial_cynic
I've looked around online for different kinds of ant-farm designs, as I want to be able to really see the ants digging around. There's all sorts of designs - some folks cut out elaborate lattice-work paths, and some use shaped plaster.
I decided to take my rarely-used router and carve some tunnels into a scrap piece of 2x6 that I've had sitting around for a while. I picked up a large sheet of Plexiglas from Home Depot recently, and after carving out the wood, stapling on some side rails, drilling holes in the Plexiglas, screwing the Plexiglass down, and adding some wood glue to seal things up, I came up with this: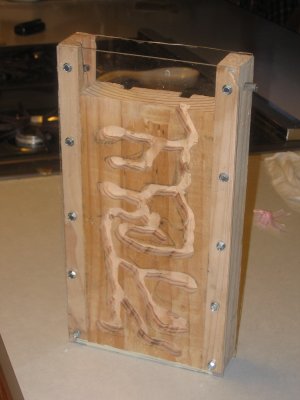 It's double sided, and I've cut holes into the tunnels that allow the ants to traverse both sides of the habitat through them. I also drilled holes in the top of the rails to allow me to connect tubes to other chambers. I guess it's better to have foraging areas in separate containers, since food will tend to mold and cause problems.
Anyhow, this thing only took me an hour to build, and now that I've made one, I can probably make more faster. Maybe I'll make a few more and sell them...