STEPPER MOTORS
June 02, 2007
by: jovial_cynic
Ugh. I placed a maximum bid of $60 on a set of three stepper motors on eBay, thinking that the cost would be a bit below that, but it turns out that the auction ran right up to that amount. Throw in $13 for shipping, and I paid $73 for them.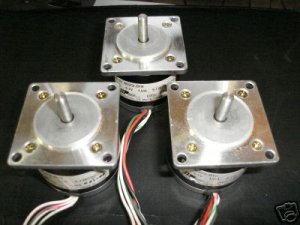 Details:
3 NEMA23 Applied Motion Products Stepper Motors. Part #4023-819
The rest of the details are in the second picture.
Yeesh, this is going to get expensive pretty quickly. Hopefully I can make all money I spend back in a couple of months after it's built.
($274)