GARDEN 2007
February 12, 2007
by: jovial_cynic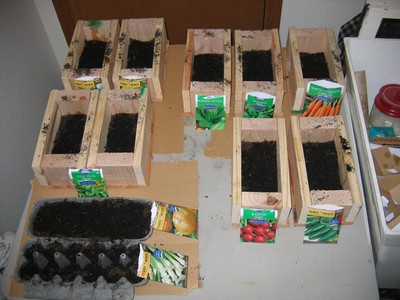 I know it's only February here in Washington, and we still have to scrap the frost off our windshields in the morning, but I've already started work on my garden for this year. From what I've heard from some of my gardening coworkers, you're
really
a gardener if you're already thinking about your plants in February. :: shrug :: That might be true. Or maybe I just have a disorder where I think about everything all the time, so it's less about me being a gardener, and more about me having impulse control issues when it comes to projects.
Most of the seeds I've purchased can be started indoors, six to eight weeks before the last of the frost. Since I have no clue when the last frost arrives, I just figured I'd start
now
and hope that things work out.
I don't have a green house (although I'm considering building one), so I've decided to take up some space in our laundry room. It gets a reasonable amount of sunlight, and it stays fairly warm -- a good combination for plants, I hear. Hopefully the plants agree.
I'm thinking about building a floor-to-ceiling series of shelves in the laundry room (shh... I haven't told my wife yet), so I can house a LOT of plants -- much more than the 11 small plots I currently have in the picture. We'll see. It might actually be less work to build the green house, and it'll likely cause less conflict with my wife.
Here's the current list of seeds I've planted:
Broccoli
Cauliflower
Romaine Lettuce
Spinach
Carrots
Snap Peas (2 plots)
Onions (big)
Onions (small)
Radishes
Jalapeņos
I realize that the plots are small. I'm still a beginner, and I don't want to have more than I can handle. Also, I plan to have several rounds of crops in succession, so after these plants are ready to transplant, I'll start the next batch.