GRINDING FRACTAL GEARS
December 21, 2006
by: jovial_cynic
I think something is
off
.
I can always tell that the circuitry inside my head has crossed wires when I start working on way too many projects at once. And it's not even the actual act of working on the projects -- it's when I can feel the gears in my head getting hot as I
think
about all the projects at once.
Of course, I don't notice that it's a problem until I start feeling overwhelmed by the number of projects I'm juggling, and by the fact that I can't seem to think about anything other than the projects. Another clue: there are 1/4-size pieces of notepad paper, like leaves, scattered everywhere, mostly strewn across my work area. Most of them are difficult to decipher - formulas, measurements, arrows pointing every which way, some towards scribbles, some away from scribbles... and lots of little circles. But I know that they made perfect sense when I wrote them, and if I could decrypt the symbols, I'd be better at finishing some of the projects I started.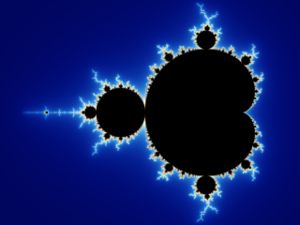 Mandelbrot set
I chatted with my boss a few days ago about the way in which some computer programmers analyze data (at least those that code in object-oriented languages), and that their arrangement of that data can make it difficult for them to function socially. Many programmers arrange data into trees, with a trunk (being the main data type), and the branches serving as subsets of the data in the trunk. The nodes on the branches can have their own branches, so you end up with multiple subsets, each item in the tree having a parent branch, until you work your way back up to the trunk. Or the
root
, depending on your nomenclature.
For programmers that spend a lot of time thinking in this manner, everything is categorized and related. Everything is a subset of something else, and everything can be tied back to some universal...
something
. It's a bit like viewing the universe as a giant fractal pattern, seeing beneath the three-dimensions and discovering the infinite. Everything... every drop of rain, every pebble, every star, every word, every kiss, they're all manifestations of that same recursive universal something. I think this is why
Pythagoras
had the religious beliefs he did.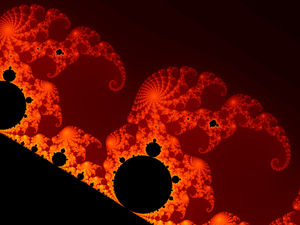 Mandelbrot set boundary
And perhaps the difference between people who become programmers and "normal" people is that normal people view the Mandelbrot set and just see a bug. Programmers can see inside the set... and find the infinite, and at the same time, lose their ability to relate to folks who just see the bug. It's not even a matter of speaking a different language -- it's speaking from the perspective of a different existence.
I feel like the times that I get stuck on so many projects and find difficulty thinking are the times when I've looked too many layers deep into the fractal universe and have gotten lost. And I'm not always sure how to get out.