JOVIAL_CYNIC VS. TIDE DETERGENT
October 11, 2006
by: jovial_cynic
A few days ago, I walked into our laundry room and encountered
this
: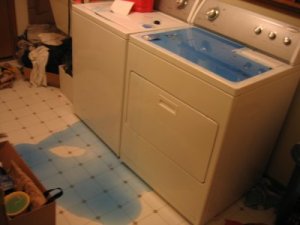 This is what we refer to as a
clean
mess. Clean, because that's well over a gallon of Tide Detergent, as no matter how much of a mess it's making, it's all clean. And smells fresh.
Here's a closer look at the top of the dryer. I moved the 2.34 gallon jug off the dryer to get a better look.
Notice the closed lint trap? That lint trap apparently isn't designed to keep laundry detergent out.
And here's a better look at the mess on the floor. Nice clean floor. It's difficult to determine how much of the blue goo on the floor is from the Tide spilling down the front and side of the dryer, and how much of it poured out of the vent behind the dryer. It turns out that the lint trap functions as an excellent detergent drain. I didn't know that until after I cleaned the floor.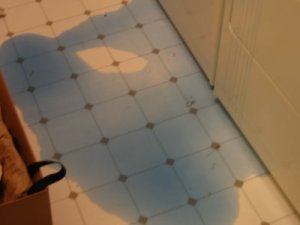 And here's the picture of the rear vent, still dripping Tide
after
I cleaned the whole floor. Fun!
So what caused this mess? How did Tide detergent spill all over my dryer? Apparently, there was a hole in the container. Not the hole where the cap goes, or where the detergent is
supposed
to drain. Another hole. A mystery hole.
Look:
See it? It was hiding
under
the label. Here, look closer: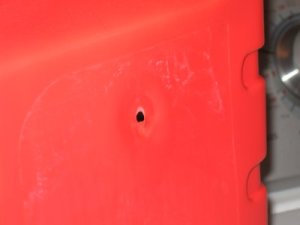 Fun fact!
The jug was on its
side
while on the dryer. That's why MOST of it spilled out.
See that? It looks like an error in the plastic moulding process, and since that's not my fault, I called up Tide to see what they'd do about my mess.
Long story short, they're sending me out some coupons to buy more Tide detergent. Hopefully, the new jugs don't have the same problem.
I was a little concerned that the detergent might have gotten into the electrical wiring, and I'd hate for the
large, conductive, metal
dryer to short out while I was touching it, so I took the dryer apart... because that's what I do.
This is the back of my dryer without the protective rear panel. FYI, I've already taken off the lint-trap vent tube, which previously covered the fan visible in the lower left side of the picture. The Tide that you saw draining into the lint trap and out of the vent made its way through that very same fan. It's not easy to clean liquid detergent off a fan with a small-enclosure shroud.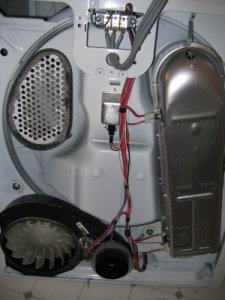 It looks like the electrical wiring was safely out of the way of the detergent all along. Thank goodness!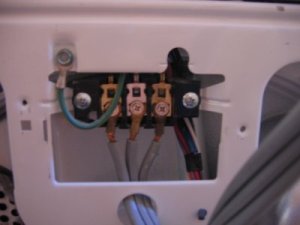 I put the whole thing together and only ended up with
one
extra screw. :: shrug :: I'm sure it couldn't have been too necessary...
tide detergent