DO THE LIMBO!
October 06, 2006
by: jovial_cynic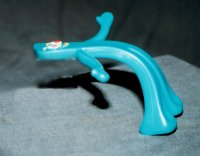 Pope Benedict XVI is doing the limbo! Or
changing it
, anyway. It's amazing what Popes can do.
For centuries, the Catholic church has taught that babies that die before baptism are stuck in this in-between world known as
limbo
, until the end of the world, when their fate is truly decided.
There's actually two schools of thought on limbo:
1. Limbo is an actual spiritual place, where unbaptised babies and good people that died before the time of Christ get to hang out in a place of happiness and joy. It's not quite as nice as heaven, but it's no hell. It's just an inbetween place.
2. Limbo simply indicates
uncertainty
- the catholic church doesn't know where these folks go when they die, so they're just going to remain in the "uncategorized" bin, which we call limbo.
In any event, it might be going away. At least for unbaptised babies. If it does, the Catholic stance will be that unbaptised babies go straight to heaven, which will make it a more competetive religion in poor areas of Africa and Asia, where infant mortality is high. Islam, for instances, teaches that babies go straight to heaven.
...
The whole problem of limbo, original sin (the catholic justification for baptism), and babies is interesting. The line of reasoning works like this:
1. All human beings are cursed under
original
sin, which is also known as hereditary sin.
2. Adults are also cursed under
personal
sin, or sins they've committed.
3. Babies are only cursed under original sin, as they've had no opportunity to commit any acts, good or evil.
4. Baptism cures original sin.
5. Baptised babies, clear of both original and personal sins go straight to heaven if they die.
6. Unbaptised babies that die are still stuck with original sin... and can't go to heaven. They're stuck in limbo.
With the abolition of limbo for children, we have an interesting new problem. If stillborn babies go straight to heaven, what's the Catholic argument against abortion? What's wrong with sending children straight to heaven? Don't people
want
to be in heaven? Isn't being in heaven significantly better than being on earth? This gives a whole new spin on the term
mercy killings
...
pope
limbo
religion