BONK
October 05, 2006
by: jovial_cynic
My wife recently e-mailed me from home to let me know that our two children bonked heads while playing around. By itself, this isn't interesting. What's interesting is that my younger daughter, at
13-months
15-months, has a history of smashing her head into things. She has, as most
13-month
15-month old children do, a large head. It's freakish, really, and terribly inconvenient. It's difficult to put shirts on over her massive skull.
Ugh. I don't know why humans were designed that way. It creeps me out.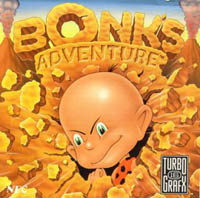 Her large head reminds me of
Bonk's Adventure
, a side-scrolling game for the old Turbo GrafX 16 from... gosh, it must have been 14 years ago. Your character was this kid with a massive head that you used as a weapon to clobber your enemies, and walls, and all sorts of other obstacles to get what you want. That's not much different than what my younger daughter does.
I like games with life-lessons.