WHAT WOULD YOU TRADE FOR A MOTORHOME?
August 31, 2006
by: jovial_cynic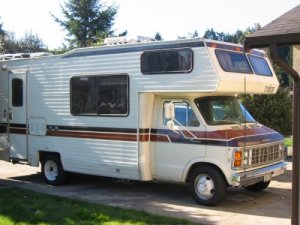 I've got this 1979 Dodge Motorhome, right? I've had it for a while, and I dig it. It's been good to us over the past few years, and I wouldn't mind using it some more. However, I'm always interested in what I could get out of the things I own... I like to think of what sort of return-on-investment I could pull out of high-ticket items.
I put my motorhome up on craigslist to see what I could get in trade, and if people were interested. I listed the actual price at $4200, hoping to get something that I'd want to buy at roughly that price.
So far?
I've had an offer for a 1985 Mustang Convertable, a 1996 Crown Victoria, and a speed boat (picture below).
This speed boat looks pretty interesting...