GUIDE TO SMACKING
July 20, 2006
by: jovial_cynic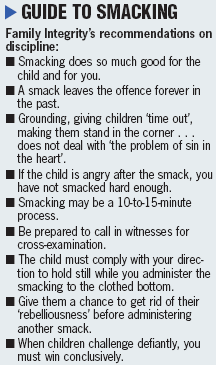 EDITOR'S NOTE: People keep commenting as though the above guide was written by me, or that I support it. Please CAREFULLY read what I wrote below and understand that I am *not* saying that I agree with it. I clearly state that the above text is extreme and unreasonable.

Folks, really. Read my whole post before you comment.
---
"Family Integrity," a New Zealand-based Christian group, recently published an eight-page booklet outlining how parents should
smack their children
. (Just to remove some buzzword anxiety, "smack" is "spank" in American english.) To the left is an excerpt from the manual.
Now, I'm an advocate of spanking children. If you aren't, that's fine -- a parent really should have the right to raise their children the way they feel is appropriate for them. But to suggest that parents should
not
be allowed to spank children is ridiculous.
I think that after you've exhausted dialogue with a 2-year old, and the child remains defiant, a swat to the butt with a flat wooden spoon is appropriate.
To be fair to both sides, I do understand the risk of abuse -- there are parents who take spanking too far. And it's not easy to come up with a pounds-per-square-inch measurement of how much force can be applied to a single smack, nor how many smacks should be applied. Children are unique, and circumstances are unique. It's a tough call.
I do NOT believe, however, that "smacking may be a 10-to-15 minute process." Nor do I believe that you should spank your kid
harder
if your kid is angry after a smack. That's LUNACY.
In unrelated news, the US conducted a successful
missile test
this morning. What the world must think... we just got done condemning North Korea for their their missile test, and shortly afterwards we conduct our own. I think the world needs less missiles.