SPEAKING OF LEFTS AND RIGHTS...
July 11, 2006
by: jovial_cynic
A while back, I took a little political/personality test from
okcupid
, which is the company that generates thousands of tests for folks to stick on their myspace pages. It's a cute little test, but the fact that it's put out by okcupid makes me question the depth of analysis that they're going to produce.
I dug around on google and came found
the political compass
, a site that provides quite a bit of in-depth information on the multi-axis field of political dynamics.
The test doesn't give you a label (democrat / republican / liberal / anarchist / etc.) like okcupid's does. It gives you a cartesian graph and plots you somewhere on it, and then gives you the actual numbers associated with the plot. According to the test, I lean -3.50 points to economic left, and -2.62 points south towards social libertarianism, which makes me politically similar to
Nelson Mandela
and
the Dalai Lama
.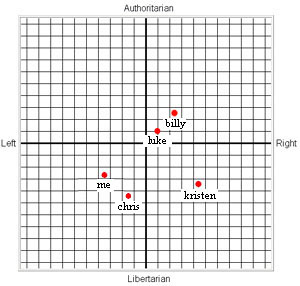 If you get a chance, take the
political compass
test and post your results, preferably in this format:
Economic Left/Right: -3.50
Social Libertarian/Authoritarian: -2.62
UPDATE:
I'm adding points on the image for anybody that posts their results in the comments. If it gets too cluttered, maybe I'll just asign numbers to people and make a key on the right of the image that explains what what number belongs to what person.