CHINESE MAN FALLS OFF BICYCLE
December 27, 2005
by: jovial_cynic
Ok. So I couldn't think of a better headline for the
originating story
.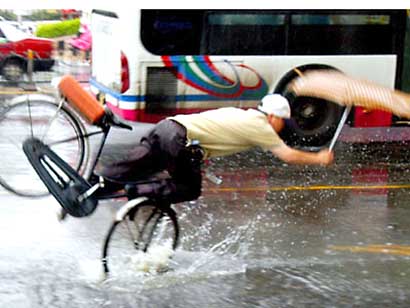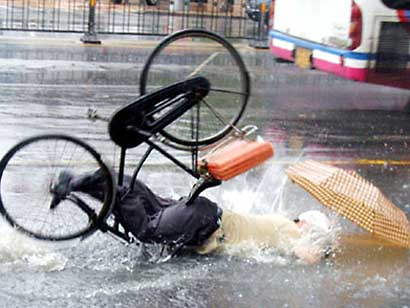 This is really an interesting article, because it's opens up questions about the philosphical notion of the
greater good
. Some guy decided to hang out with a camera and take pictures of people riding over and near a pothole that the city hadn't covered. The pothole was underwater, and sure enough, some unsuspecting rider rode over it and provided an amazing set of shots for the photographer who then submitted the pictures to a local newspaper.
The photographer is being criticised for "lying in wait," but he argues that if he didn't submit these pictures, the city would never have taken care of the pothole. More bicyclists would likely have fallen. It's an interesting argument. I kind of agree with him, although I certainly feel very bad for the guy who fell. Those are painful looking pictures.