PLAYSET
May 11, 2009
by: jovial_cynic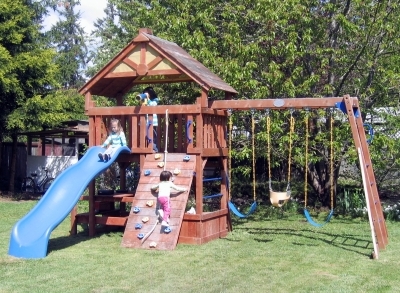 I love garage sales.
We found this playset for a SCREAMING deal at a garage sale a couple of weekends ago, and the kids haven't stopped playing on it.
Brand new at Costco, this set runs about $1,300. We managed to pick it up for $350; the family purchased it two years ago, and then due to a military move (and transportation weight limits), they had to sell it. Four trips on my little
4x8' trailer
later, I had this set up in my back yard. It's nice that it was already assembled; I think I only tightened 10 bolts to put it back together when I brought it in. The roof was a bit of work, though... I had to take it apart and bring it up piece-by-piece to get it on there.
Fun fun.