SNOW FORT
December 21, 2008
by: jovial_cynic
I love the snow.
The last time we got enough good snow to make anything, it was the winter of 2003 - back when my first daughter was only a month old. Unlike most folks I know, I didn't build a snowman. Instead, I built a large snow fort - large enough for me to sit in.
This year's snow blast gave me another opportunity to build a fort in the back yard big enough for all three of my kids to sit in.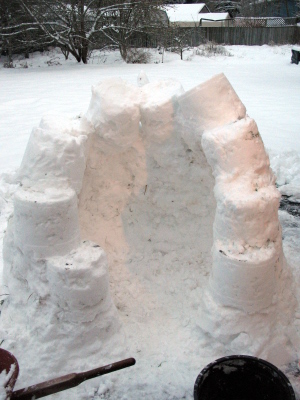 First steps. I'm using a 5-gallon gardening pot to pack the snow.
Here's the fort. It's strong enough for me to sit on. Oddly, I get a big kick out of being able to sit or stand on things I make. I dunno. It's weird.
Well, all three of my daughters will fit if I pack them in like sausages. Hrm. If it snows again tonight, maybe I'll make a bigger one out front.