LET IT SNOW...
December 20, 2008
by: jovial_cynic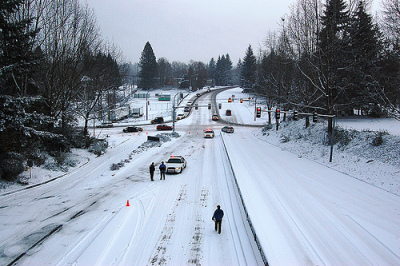 image:
Snow in Olympia - State Patrol closing roads
(
cc
) wsdot
Windy...snow...possibly mixing with or changing to freezing rain or sleet after midnight. Snow accumulation of 6 to 12 inches. Ice accumulation up to one quarter inch possible late. Lows in the 20s. Southeast wind 10 to 15 mph increasing to south 20 to 30 mph after midnight.
We're expecting a bit of a snow and ice storm tonight. It's days like this that I'm glad we have a gas range -- even with a power outage, we can still heat up food. And our gas water heater lets us have hot water until the water pressure goes away.
Keep warm, local folks. It's going to be a cold night.