A DAY OF THANKS
November 27, 2008
by: jovial_cynic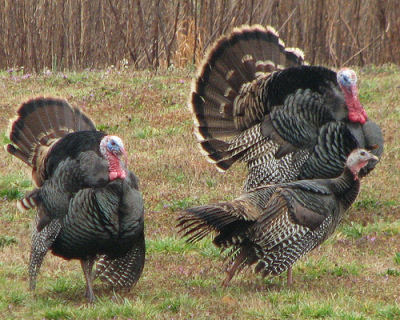 image:
Wild Turkeys 3-7-08
(
cc
) Vicki's Nature
In fact, I am no more thankful today than I was yesterday. Or the day before. I do my best to live a life of thankfulness, knowing that
unless the Lord builds the house, we labor in vain
(Psalm 127:1).
However, per tradition, here is a list of seven things for which I am particularly thankful:
1. My wife, who has turned my house into a home.
2. My three daughters, who makes me smile every day.
3. My mother, who taught me how to be a responsible person.
3. My friends, near and far.
4. My church community, with whom I grow in my relationship with God.
5. The freedom that allows me express my beliefs, have my own hobbies, make my own money, etc.
6. Modern medicine. As much as I would like to go homesteading in the mountains, modern medicine sure is nice.
7. My God, who has given me everything.