SKETCHUP + PEPAKURA + STEEL = GENIUS
November 12, 2008
by: jovial_cynic
A while back, I was inspired to create a
papercraft T4 bacteriophage in metal, just to see how it would turn out. The idea of taking a model from paper and applying it to sheet steel interested me, and it came out much better than expected. Slightly more difficult... but better, since the welding torch gives me some flexibility to make the models look a little more organic.
I picked up the papercraft model from a thread on a forum I visit, and in the thread, somebody linked to
pepakura
, a 3D editing program designed to let you import 3D-models and convert them into papercraft models.
After doing some research, I discovered that pepakura accepts models created in google's sketchup, as long as they're exported into the google-earth-4 format.
google sketchup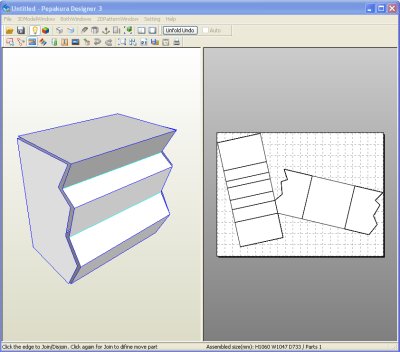 pepakura
Now that the weather is preventing me from working on outdoor projects, I can get back to work on my
CNC machine
, which I'll use primarily to cut out papercraft models into sheet metal.
This is fantastic.