REALITY SETS IN
November 07, 2008
by: jovial_cynic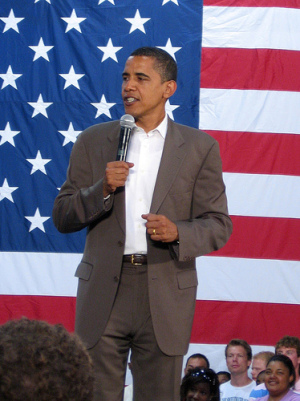 image:
Barack Obama
(
cc
) transplanted mountaineer
When it comes to thinking about consequences, and the impact of having Obama as president, in light of how many people
worship
him, I am no optimist. I am deeply concerned that reality is going to be rather painful for these people. There is no possible way that Obama is going to be the person that they expect him to be. He cannot live up to his reputation among his supporters. He is only a man. And for people to have to come to that realization in the midst of what may be America's greatest financial crisis... I am deeply concerned about the looming social unrest that will be clearly tied to the expectations people had about this man. People are going to be very angry.
Long after I abandoned my support of Bush, I maintained that I felt a great deal of sorrow for him, knowing that the tragedy of 9/11 happened on his watch. It's difficult for me to imagine the burden he had to carry. But that's his job. That's what an American president does -- they deal with the greatest challenges of the world. So while I feel sorry for Obama as he heads into a global economic crisis, and know that he will likely become the scapegoat for the world's ills as things get worse, I also feel that this is a job he chose. This is what he wanted to do.
Do I think Obama is equipped to set America on the right track, economically? Absolutely not. But I don't think anyone is. The tumbling of the market isn't something a president can "fix," and the necessary solution (the increase in consumer confidence) is not something any single political ideology can provide.
Folks, we are headed for choppy waters, and at this point, I don't think it matters who is at the helm. Grab your barf bags.