PULLED THE RING GEAR
October 23, 2008
by: jovial_cynic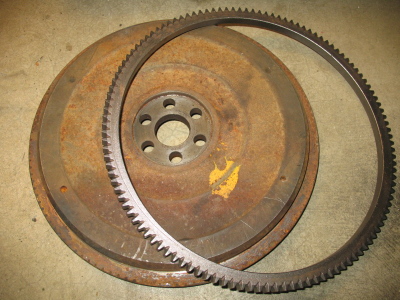 (flywheel with new ring gear next to it)
I had some conflicting opinions about the condition of the old flywheel on the 510, and after going through the trouble of buying a new starter, I figured that having the new ring gear installed just made sense.
I spent about an hour this morning drilling some holes into the old ring gear (breaking two bits, and maybe my drill), heating the ring, and finally popping the ring off with a chisel and hammer.
It sure would be nice to have a hydraulic press.
Anyhow, I should get the new ring gear on tonight, and after throwing on the flywheel, the new starter and the new alternator, my car should be back on the road.