RAT OF A CAR
August 05, 2008
by: jovial_cynic
Like many 510 owners, I pride myself on the ability to have cobbled things together to make the car work. Lots of "temporary" repairs and the such. Many of the temporary repairs make the car a bit... unsafe, but I really do plan to fix it all. Soon. Honest.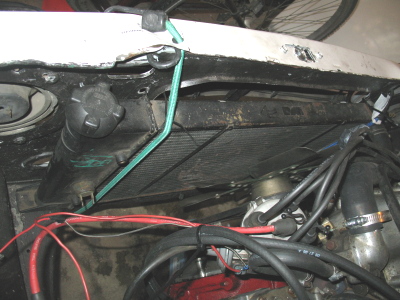 Here are a few of the projects pending on my car that make it a bit of a rat:
1. Battery held down in trunk by bungee cords.
2. VW Radiator held down by bungee cords.
3. Muffler/exhaust held by three clamps and some coat-hanger wire.
4. Gas tank filler tube is a series of thick rubber tubes and clamps, with a rubber lid clamped on. (previous owner shaved the car, and had a fuel cell in the back... and filled through an opening he had on the rear deck. No rear windshield, because he planned to use the car to drag race).
5. Rear windshield? What rear windshield?
6. Windshield wipers? What windshield wipers?
7. Seatbelts? Nope.
8. Rear lights? Nope. Previous owner replaced the rear with a flat sheet, so I need to cut out spots for lights.
9. Wiring harness? Nope. With no lights installed, I've got about 5 or 6 wires in the car, total.
10. Alternator? No functioning one, anyway.
11. Door windows? Nope.
So yeah. She's a bit of a rat.