MAYBE KNOT
June 11, 2008
by: jovial_cynic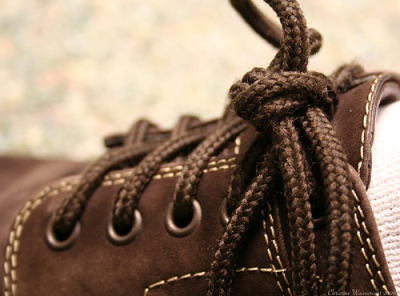 image:
Shoelace
(
cc
) cdw9
I discovered, to my horror, that I've been tying my shoelaces
wrong
my entire life. Not wrong in a subjective kind of way, where it's just a matter of personal opinion, but in a this-is-not-how-you-are-supposed-to-do-it kind of way.
The square knot is about the simplest way to tie a knot made from two ends of string. You do the whole over/under thing, and then you do it again in reverse. Voila, you have a square knot. You could, if you wanted, switch which you did first, which would still result in a square knot; the key is to make the crossovers opposite one another.
But if you do the second crossover the same, you get what's called a "granny knot." Why grannies get such a bad name, I don't know, but the granny knot is absolutely worthless. It comes undone when you want it to stay secured it and during the times when you actually want to undo it, it mysteriously stays bound up, unwilling to budge. I don't understand it. It's just horrible.
Tying your shoelaces properly involves an initial cross over, and then a second crossover with a loop. You are basically tying either a square knot or a granny knot. For all of my life, I've been tying granny knots into my shoelaces, and always blamed my laces for coming undone, as though the shoe manufacturer contracted with a lousy lace company.
All this time, it turns out it was my own fault. How humbling.