HEALTHY CRITICISM OF OBAMA
May 14, 2008
by: jovial_cynic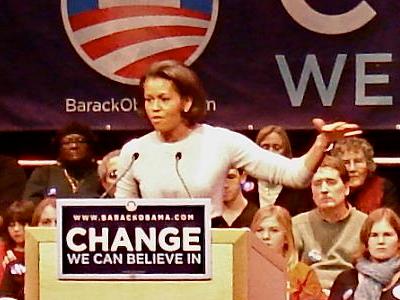 image:
Michelle Obama
(
cc
) Ann Althouse
For a candidate who's pushing for a change in congress, and for greater accountability on lobbying and spending, it does seem
inappropriate
for Obama to have earmarked $1,000,000 for a hospital that employs his wife. And when you consider that the same hospital awarded Michelle Obama with a promotion that came with 160% pay increase shortly after Barack Obama was elected to Senate, it further challenges Barack's credibility on the issue of lobbying.
I sent this message to the Obama campaign:
Hey folks -
I'm a strong Obama supporter, and I've felt very comfortable supporting Obama in spite of the reaction I've received from my more contentious conservative friends.
I have, however, come across an issue for which I cannot find a defense or excuse, and I'd like some clarity on the issue.
The $1-million earmark for the Chicago Hospital where Michelle Obama works and received the monstrous pay-raise and promotion to a VP position poses an ethical problem (or at the least, a conflict of interest) for a candidate who is fighting against corruption in the government. This screams of a you-scratch-my-back/I'll-scratch-yours scenario, does it not? How has Barack responded to criticisms of this situation?
This is a tremendous issue for me, because the only reason I went from being a staunch non-voter to an Obama supporter was because I was disgusted at the corruption that's built into the political system -- that our elected leaders should be influenced and corrupted by money is disheartening. I felt that Obama's campaign was built on fighting against such corruption. However, if this situation with Barack and Michelle is another example of that corruption, I will certainly not cast my vote.
I look forward to a response.
Regards
If/when the campaign gets back to me, I'll be sure to follow up.