SO I'M A CHICKEN FARMER
May 03, 2008
by: jovial_cynic
I'm already gardening, and even though nothing has come up out of the dirt yet, I'm getting excited. The idea of growing my own food just makes so much sense to me -- it feels like truly
living
, as opposed to paying (and relying on) somebody else to live for me.
In addition to growing plants to eat, I've decided to do something different. Something drastic. And it started like this: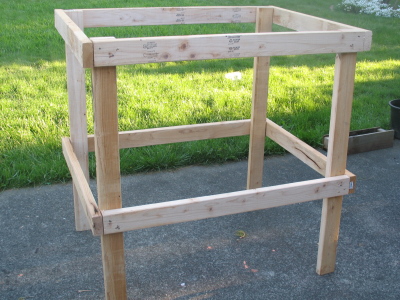 Here's the frame.
It's starting to look like something.
Can you tell what it is yet?
That's right. It's a chicken coop! And I've got chickens!
I picked up a couple of 10-month old gold-laced wyandottes from a local breeder, and after stopping by the feed store to get the necessities (feed, bedding, a watering can, a feeding can), I brought the chickens home.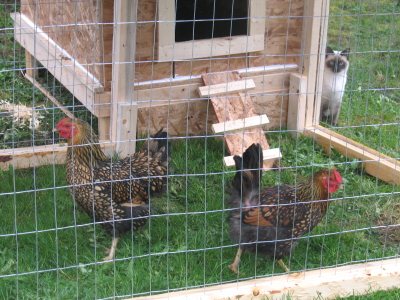 Aren't they cute? My cat seems to think so.
It looks like at least one of them is productive. She set it in the bedding on the floor of the coop instead of in the nesting box. Oh well. It's still an egg. Hooray!
I still have a bit more work to do on the coop to secure it from the local raccoons and possums. They apparently have a habit of grabbing chickens and biting their heads off. Creepy.
But yes - in addition to gardening, I now have a couple of egg-laying chickens. Woo hoo!
---
I got the idea for the design online, and in addition to posting my own, I'm posting the a link to the design that I followed:
Small coop design
(PDF)