MCCAIN ENDORSED BY JOHN END-OF-DAYS HAGEE
April 08, 2008
by: jovial_cynic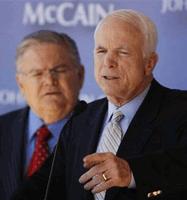 I didn't want to post anything serious while on vacation, but I saw
this article
and couldn't let it go.
Yesterday, hard-line conservative Pastor John Hagee, founder of Christians United for Israel, endorsed John McCain. Hagee said that McCain is a man of principle, [who] does not stand boldly on both sides of any issue. McCain, who had been courting the endorsement for over a year, said that he was very honored by Pastor John Hagee's endorsement.
The concern with John Hagee's endorsement
and subsequent acceptance by John McCain
, however, is that the destruction of Iran is a glaring central theme. Between McCain's "bomb-bomb-Iran" joke and Hagee's "it's God's plan to go to war with Iran," there's something uncomfortably sinister about the whole thing.
Hagee, known for many radical religious views, said the following:
The United States must join Israel in a pre-emptive military strike against Iran to fulfill God's plan for both Israel and the West... a biblically prophesied end-time confrontation with Iran, which will lead to the Rapture, Tribulation, and Second Coming of Christ.
In an
interview with ABC News in 2006
, Hagee stated:
"Russia is going to get in that position and they are literally, with all that massive military force, going to attack Israel," Hagee told ABC News in 2006. "This is recorded in Ezekiel 38 and 39. God himself is literally going to destroy that army. Decimate it."
Hagee added that the confrontation would be followed by a Chinese army of 200 million coming to the city of Armageddon, where they will meet British and U.S. forces in the Battle of Armageddon.
"At that point, Jesus Christ returns to Earth and sets up his eternal kingdom in the city of Jerusalem and there's 1000 years of peace," Hagee said. "The Jewish people are going to see the supernatural hand of God preserve them and deliver them while the enemies of Israel are crushed. That's the end-time story."
Is McCain being urged to start a war by folks who believe it will kick off the end of the world? Under McCain, will America wage a
holy war
against Iran?