COGNITIVE DISSONANCE
April 04, 2008
by: jovial_cynic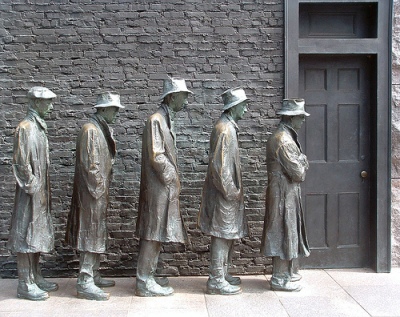 image:
Queue for job
(
cc
) le Haricot
A report today came out stating that the Labor Department
dropped another 80,000 jobs
during the month of March, bringing the unemployment rate up to 5.1%. It seems that we should no longer be asking whether or not we're in a recession -- we should be asking how we can get out of it.
When you have a decrease in available jobs, you naturally have an increase in people
looking to the government
for assistance. Food-stamp recipients are at an all-time high right now, and it doesn't look like it's going to decrease any time soon.
Driven by a painful mix of layoffs and rising food and fuel prices, the number of Americans receiving food stamps is projected to reach 28 million in the coming year, the highest level since the aid program began in the 1960s.
...
Citing expected growth in unemployment, the Congressional Budget Office this month projected a continued increase in the monthly number of recipients in the next fiscal year, starting Oct. 1 -- to 28 million, up from 27.8 million in 2008, and 26.5 million in 2007.
I've been debating with a friend on the issue of which segment of the population benefits the most from taxes, and who is impacted financially the most by taxes. Regarding Obama's tax plan, I stated that "I just happen to prefer the way Obama wants to spend my tax dollars. I think that it is better for society." And I say this because I'm concerned about the massive layoffs, the increase in inflation, and because caring for the poor seems like a good use of resources. Decreasing taxes on major corporations who give their CEOs
$21.7-million-dollar bonus checks
seems a little backwards.
In regards to my support of Obama's tax plan (which, in fact, increases taxes on households who make more than $75,000), another commenter on the blog replied:
Are you kidding????? Entitlement programs are better for society than national security?
Are you aware that the Obama Tax Plan includes a giant tax increase for the nation's "wealthy"?
...
Sorry, but I'm sick of politicians reaching into my pocket to pay
for people who won't work
. (emphasis mine)
How the cognitive dissonance doesn't make some people's brains explode, I have no clue.
With the downturn of the economy, a sharp rise in inflation, and the decrease in available US jobs, do people really think that the issue here is people who just
won't work
? Are we supposed to ignore the predatory loan practices that led us to the sub-prime mortgage crisis that's causing the economic downturn? And in the midst of all this, the US government is
going to bet $29 billion dollars of tax payer money
to bail out Bear Stearns, while 3 million homeowners are going to default on their mortages. And that makes
my
brain want to explode.