HACKING A BABY MONITOR: WIRELESS AMP
March 04, 2008
by: jovial_cynic
As a kid, I had a habit of sticking amped audio wires into my mouth, so I could feel the way the audio waves changed the feel of the voltage going through it. I later discovered that you could take those same wires and connect them to a small motor and cause the motor to vibrate at the frequency of the music. I would then take the motor and mount it to a cabinet and cause the whole cabinet to resonate with sound.
Editor's note: You probably shouldn't stick wires with any amount of electricity going through it into your mouth
Lately, I've taken an interest in wireless technology. I love the idea that one can take raw audio signals and send them through the air and pick them up in a remote location. Having several small children, I happen to have a wireless device handy: a baby monitor. It's a simple device; it simply has a microphone on one box and a speaker on the other. It's just a remote listening device.
Today, I decided to hack the baby monitor to see if I could cut the microphone out of system and run wires from my electric mandolin in its place.
Here's the speaker end of the monitor.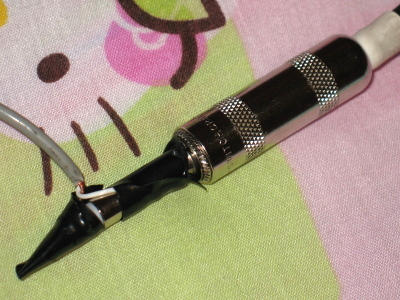 My first step was to connect some wires to the plug coming from the mandolin. I didn't have a spare jack handy, so I just used some electrical tape to secure the wires in place.
Here's the back of the sending unit; I've got the wires going to the spot where the microphone wires are soldered into place.
If you take a look at the red wire, you can see where I cut it. I needed to leave the microphone in place, as we still need to use the baby monitor for the baby. This is all just a proof of concept. I've ordered another $5 baby monitor from eBay so I can fully take it apart.
I'm not 100% positive, but I believe this is the business end of the sending unit. The antennae is wired into the cylinder at T2, so I have to assume that it's the actual wireless sender.
Anyhow, patching the audio output jack directly to the microphone wire worked just fine. Here's a video my 4-year old daughter made of me playing my mandolin through the hacked baby monitor:
Pretty steady for a 4-year old. And pretty decent sound coming through the wireless amp.
Fun fact: This post got picked up by
boingboing
and by
Make
. Neat!