RACE AND GENDER
January 08, 2008
by: jovial_cynic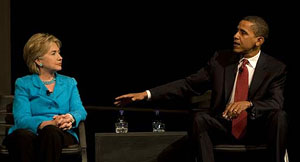 image:
Hillary Clinton & Barack Obama at YearlyKos 2007
(
cc
) Son of Broccoli
I read a post on a forum today that forced me to analyze my own decision making processes. It was a pro-Obama thread in which one of the forum members said the following:
"When I watch the debates, it never really crosses my mind that I am watching a black man running for president. It often occurs to me that I am watching a woman when Hillary speaks, though. This is odd because I always thought I was more racist than misogynistic."
I found that to be a rather eye-opening statement. I also tend to ignore the fact that Obama isn't white, but I'm keenly aware that Clinton isn't male. I really wonder how much of that is because of my own expectations of male and female gender roles.
On the other hand, I do favor Obama, and that may also play a part in the perception. I wonder if I would feel the same way if the roles were reversed -- would I be as aware of the gender of a female that I favored? I'm not sure.