FRETS ON FIRE
January 01, 2008
by: jovial_cynic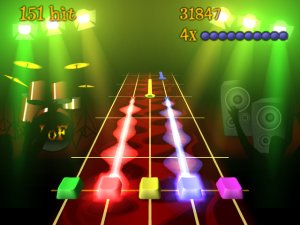 image:
Fretsonfire4
(
GNU
)
Frets On Fire
For months, I've heard and read about people playing Guitar Hero and it's sequels, and I've brushed it off as a low-grade version of Dance Dance Revolution -- it's the same game, but with less activity. Instead of getting exercise by jumping around on a foot-pad to hit the buttons, you push brightly colored squares on a child-sized guitar. Silly, right?
My brother-in-law got the game for his Playstation 2, and the last few times I've visited him, I've played the game. And... I'm hooked. Every time I head over, all I can think about is playing new songs on that game. Ugh.
Fortunately, I have the good sense to not buy a new game system on account of a single game. I don't own any of the late generation game consoles -- I'm still running old school with the Super Nintendo... which means I haven't purchased a game system since before 1995.
However, I like the game enough to do
something
about it, and after doing a little hunting, I discovered that there's a game available for the computer called
Frets On Fire
... and instead of using a mini guitar, you use your keyboard.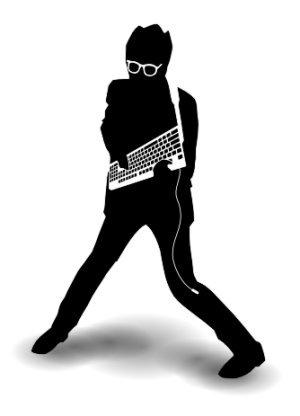 image:
Frets on fire man
(
GNU
)
Frets On Fire
Yeah. That's right. Your
keyboard
. And the game even allows you to make your own fret-challenge from the songs you own. Fun.