AND THEN CAME THE FLOODS
December 03, 2007
by: jovial_cynic
With the exception of a power outtage at a church dinner event in Tumwater, the flood hasn't impacted me personally yet, although I'm reading reports of some tremendous damage that's happening in my town.
However, these people are not going having a good day: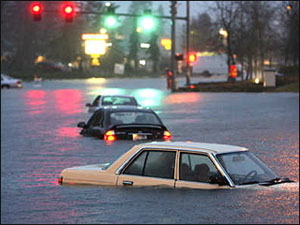 This is on the west-side of Olympia - the place is a lake now.
And I just saw
this article
that mentions the mudslide that took out the The Ranchhouse BBQ, where my family and some friends picked up some food just a few months ago.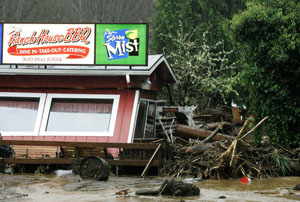 The Ranch House BBQ restaurant is shown Monday, Dec. 3, 2007 after a flash flood swept down a tributary of Kennedy Creek near Olympia, Wash., and went through the restaurant. No injuries were reported. Drenching rain swelled rivers and flooded streets across much of Western Washington on Monday, and high winds gusting to more than 80 mph blew trees into power lines and onto roads. (AP Photo/Ted S. Warren)
And lastly, a post on
olyblog
requested some help for the homeless in Olympia:
There are many men and women in Olympia bearing the elements today without adequate clothing and supplies. Because it's not below freezing, the Salvation Army is not observing 'cold weather rules' and letting people stay inside. Also, the shelter will not admit those without photo ID, and Bread and Roses cannot provide enough funds to cover all those who need it. If anyone has any supplies at all please consider braving the roads and dropping them off to Bread and Roses today. People are coming in soaked to the bone in their only set of clothing. Here's an idea of what is needed:
Rain-gear of any kind
Jackets
Long johns
boots
gloves, scarves, hats
tarps
socks, socks, and more socks
tents
I cannot adequately portray the dire need of supplies in this kind of weather. Pneumonia, bronchitis, the flu and other illnesses will run rampant after this bad run of weather. If this is a matter near to your heart, please consider calling the city and asking for large scale emergency shelter to be opened, TODAY, whether it be a warehouse, an unused city building, or whatever else. If it's miserable going from your front door to your car, can you imagine sleeping in this muck?
Bread and Roses Advocacy Center 1009 4th Avenue E
(360) 754.4588
If you're mobile and are able to help out the homeless, please do.
Olybog also put up a
mashup
for people to list flooded areas.