NONE OF THE ABOVE
December 01, 2007
by: jovial_cynic
In the
last post
, I tried to guess what my ants wanted to eat. With the options of cat food crumbs, poppy seeds, peanut butter, egg mix, sugar, and salt, I had hoped that the ants would have gone for at least one of them. But they didn't. For a few days, everything I put in there just sat there, and I eventually had to pull stuff out for fear of rotting.
I decided to run to the pet store and pick up some crickets, since I was pretty sure that my ants would eat crickets. I've seen pictures of other Aphaenogaster ants eating crickets, so I figured it'd be a safe bet.
Before I fed them, I decided to move them. Again. Yes, I know I
just
moved them, but I figured that having the nest so close to any foraging opportunities might not be good. I've now put the ants back into the terrarium, only this time, I've mimicked the setup in the hexagonal fish tank.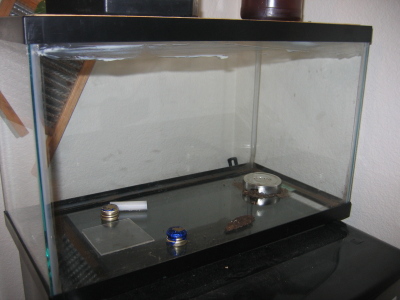 This is the terrarium, without all the dirt that was in there previously.
Here's where the nest is located. I call this the hotel.
And here the ants have happily dragged away a cricket to the hotel to eat. Hooray.