MORE ROBOTS
August 01, 2007
by: jovial_cynic
A couple of weeks ago, I wrote up a little piece on the military and police use of
weaponized robots
, and how that's a little scary.
The image I used was a robot from the Star Wars movies that I found on some site. I kind of like it, and I thought it fit the theme. However, it apparently isn't as appropriate as the actual weaponized robots being used: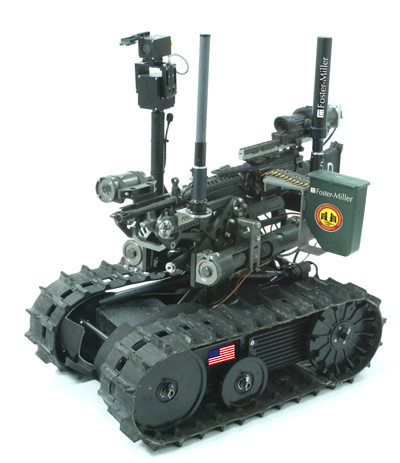 Wow. Menacing.
And this thing is actually being used at this moment. Three of them.
With 80 more planned
.
SWORDS is designed to take on "high risk combat missions," according to an Army statement. A specialist controlling the robot could send it into a potentially dangerous situation, such as a narrow street infested with snipers, seek targets and take them out before a foot patrol follows.
"Anytime you utilize technology to take a U.S. service member out of harmís way, it is worth every penny," said John Saitta, a consultant with Smart Business Advisory and Consulting and a major in the Marine Corps reserves, who has been trained as a weapons and tactic instructor.
"These armed robots can be used as a force multiplier to augment an already significant force in the battle space," he added.
The obvious next step is automation, as we'll eventually have more machines than people on the battle field, and simply not enough people to control them all. From that will come the rise of the machines, and then finally the end of human civilization.
These are scary times.