I'M SO GOING TO DO THIS
July 05, 2007
by: jovial_cynic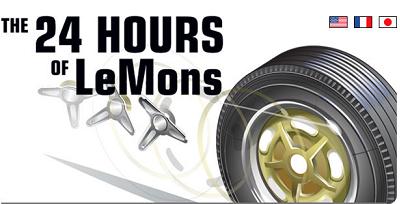 One of these days, I'm going to participate in the
24 HOURS OF LeMons
race.
Yes, LeMons. Not LeMans.
Long story short:
Each LeMons race is for cars purchased, fixed up, and track-prepped for a total of 500 dollars or less. But before reaching the grid, you'll have to survive trials like the Personal-Injury-Lawyer Anti-Slalom, the Marxist-Valet Parking Challenge, and the Wide Open Throttle Rodthrowapalooza. Twelve hours into the race, the car voted People's Choice is called in and awarded a cash prize; simultaneously, the car voted People's Curse is called in and summarily destroyed. At the end of 24 hours, a gala awards ceremony plies the survivors with trophies, plaques, and four-figure purses in canvas bags full of nickels. What's not to like?
Oh my gosh, this sounds like so much fun. This year's event occurs July 7th and 8th, and I unfortunately will not be able to attend. I doubt I could convince my wife to let us drive down to northern California just to watch a 24 hour race.
The website for the event is fantastic as well. Snarky and all that. Under their FAQ section:
IS THIS, LIKE, REAL RACING?
Yeah, it's, like, real racing, but it's not like you'll be going particularly fast. You'll be lucky to break 70 mph as rule. It's kinda like a loud, hot, noisy version of driving to work. For a really, really long time. Without actually getting anywhere. And it's a lot harder to drink coffee through the helmet. Oh, and, you know, it's really dangerous.
Fun! I've got a bunch of friends that I know would LOVE to participate in something like this...