RANDALL MUNROE MISSING?
April 27, 2007
by: jovial_cynic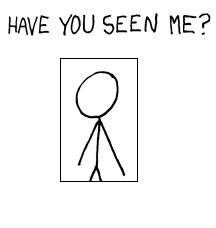 Randall Munroe, author of
xkcd
(one of my favorite web comics) may be missing. The
latest strip
states the following:
Editor's note: Mr. Munroe has been missing for several days. We have received no submissions from him for some time, but we found this single panel on his desk in a folder labeled 'MY BEST IDEA EVER'. It is clearly part of a work in progress, but we have decided to post it in lieu of a complete comic."
Hopefully everything is alright with Munroe. His comics are always a little somber and sad, which make me wonder if thoughts of suicide ever entered his mind...
Update:
Apparently, Munroe is just fine. The
latest strip
is up on schedule.