TOO MUCH MONEY
July 02, 2006
by: jovial_cynic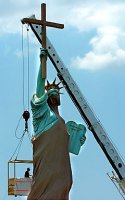 The "
World Overcomers
" Assemblies of God church in Memphis, Tennessee apparently has too much money. Even on their website, they've got a rotating image in the upper left which goes through some of the things they've added to their facility with all of their money. Among them are a bowling alley, a basketball court, tennis courts, a gym, a swimming pool...
Bling.
I emailed the church to ask them about the facilities... I wonder if they'd give me a running tally of the cost of all the facilities they've set up.
Nevermind the poor, the needy, the tired, the hungry... after buying all facilities shown on the church's page, they still had a
surplus $260,000
to spend on a seven-story "christian"
statue of liberty
that's supposed to remind me people of our country's religious heritage.
Oh, and nevermind the second commandment either, which should be inscribed on the tablets the statue is holding. One of the articles states that only the Roman numerals (how appropriate... theocracy, anyone?) are posted in place of the commandments themselves. I suppose it would have been odd to erect the statue with the "no graven images" commandment in full view.
UPDATE:
Apparently, the "Statue of Liberation Through Christ" has
it's own webspace.
And from there, you can give the church even
more
money by buying "Statue of Liberation Through Christ
Merchandise
." It keeps getting better, folks.