R33 CLUSTER IN THE SR20DET 510
June 03, 2015
by: jovial_cynic
My latest project with my 510 has been to get the instrument cluster from an R33 Skyline (RB25DET motor) into my car, and hooking it up to my SR20DET motor. I don't think anybody else has done this, and from the responses I've received when I've mentioned it, I don't think it's a popular modification. It's just not "period correct," as I've heard it said... which is odd, because the engine isn't exactly period-correct either.
Anyhow, I picked this instrument cluster because it has all the gauges that I like in one place without having to include a bunch of separate gauges. I especially like the boost gauge... although that particular gauge has been giving me a bit of trouble.
I looked all over the place online and found a few places where somebody has explained the wiring of the cluster, and at least one place that gave a rough explanation about how the boost sensor itself is wired, but I didn't find anything that spelled it out for me in a way that made sense.
So... between following all the traces on the back of the cluster, putting together the complete wiring diagram, I was able to actually put something together that should help me figure this thing out.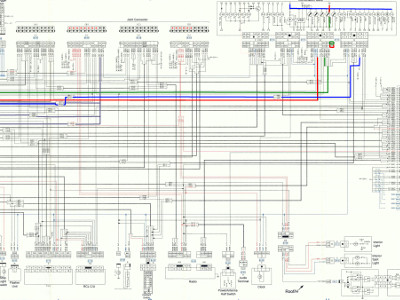 The image above is the FULL diagram with the boost gauge lines colored in so I could see what was going on. It's a 5mb+ image, so click at your own risk.
The odd thing is that after going over the diagram and the cluster for hours, I finally figured out that the diagram is
wrong
. The diagram and chart above spells it out a bit; the plug on the far-right is written in exactly backwards (instead of 1-to-12, it's 12-to-1). So, I put my own chart together and hopefully that makes it easier for me (and anyone else doing this) to figure the wiring out.