INTO THE BIGGER PRISON
November 03, 2008
by: jovial_cynic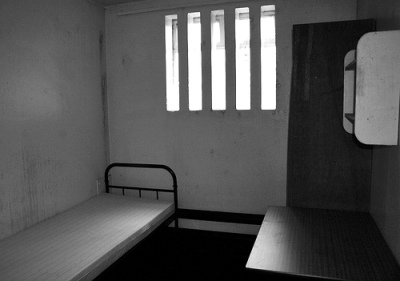 image:
Prison Cell
(
cc
) Still Burning
I have these fleeting thoughts about the nature of reality. I periodically get caught
in a Blakeian loop
while trying to figure out what parts of the universe are just
constructs of our minds
, and what part of it is truly real. I'm not thinking about it on any sort of heavy theological sense, but at the same time, reducing it to mere philosophy seems too whimsical and inconsequential. There seems to be some life-impacting perspective change involved.
I got to thinking about prisons, recently.
Of the mind
.
As near as I can figure, we enter existence as prisoners of our biology. There's the animal part of our brain that we, as newborns, are incapable of ignoring. Our brains pick up the signals from our organs and environment (hungry, tired, uncomfortable), which our mouths amplify into a scream. Because that's pretty much all babies do. Scream, scream, scream.
It isn't until some socialization happens (positive/negative reinforcement) that some of the animal impulses are curbed, and we cheer the idea that the child has grown out of that baby phase. After a few years, children learn things like the potty dance because having urine dribble down the legs is more socially unacceptable than it is uncomfortable. Likewise, we see people consciously forgoing meals (ignoring their hunger) for the purpose of dieting. Instant gratification gives way to the idea of a future reward -- in this case, the loss of weight.
But the reality is that people merely climb out of one prison and into the next. Instead of individual biology dictating behavior, now it's society... which is sort of the larger human super-organism. And society is really just more biology, if you think about it.
Nearly all adult behavior is dictated by this whole notion of a pecking order. What is the goal of weight-loss but submission to some sort of societal norm? Why are humans are irresistibly drawn to shopping centers and retail outlet malls? It's because their behavior is dictated by society, and society seems intent on keeping everyone in some line or another. And in the same way that children aren't aware that they are prisoners of their biology, most adults aren't aware that they are prisoners of their society.
However, there are some folks who have at least a peripheral awareness of the forces of society, and intentionally ignore the social cues that guide most people. Some of these might be hermits, or monks, or otherwise eccentric folks... but I can't help but thinking that upon breaking free of society's prison, these people find themselves confined by yet another cage: the rules that govern reality itself. The fundamental laws of the universe. No paradigm shift is going to let anyone get around gravity, or the speed of light, or entropy. Reality is a big place; it's an awfully large cage.
The problem, of course, is this whole question of the nature of reality.
If reality is the last prison, and if reality exists only in our minds (via perception), did we ever leave the infant stage? As long as it is true that our ego is a biological construct, tasked with superimposing a consciousness, or "sense of self," over an otherwise mechanical brain, we are forced to acknowledge that even this prison of reality is actually that same first biological prison. In which case, we've simply managed to peel back a single layer of the fractal walls that confine us, and we've gotten no closer to escaping anything.